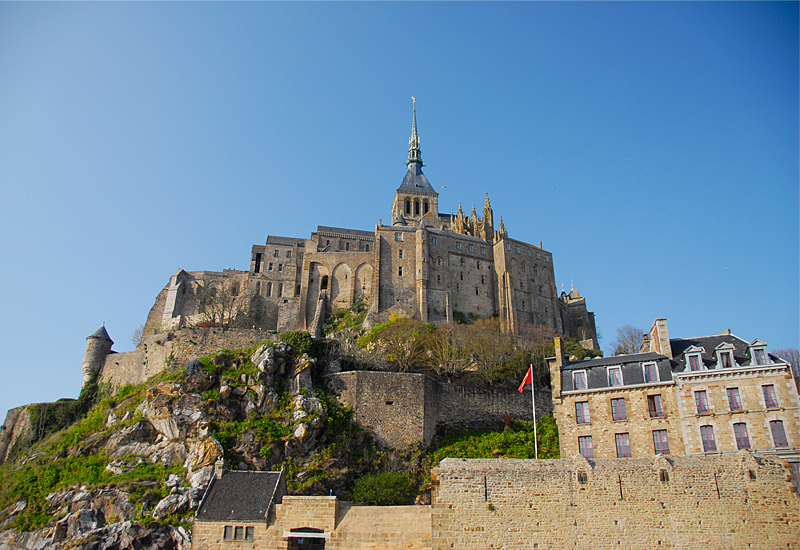 Ocean Oasis
Here's a puzzler: What do you get when you combine divine inspiration and a head injury with Minas Tirith? No, it's not a Lord of the Rings spin-off. Did a rocky tidal island make your list of guesses?
Le Mont Saint-Michel (or Saint Michael's Mount, for us English speakers) is an island located a short way off the coast of Normandy, France. In 708, the Archangel Michael instructed St. Aubert, bishop of Avranches, to build a church atop the islet. Apparently, the good man was hard of hearing, as he repeatedly ignored the requests. Legend says the archangel drove home the message by using his finger to burn a hole through St. Aubert's skull.
Over the centuries, the island and its monastery have built up quite a history. In the past, it was featured as a pilgrimage site, prison, and portrait on the Bayeux Tapestry. It has been witness to war, damaged by fire, and daily subject to tides with up to a 15-meter discrepancy between ebb and flow. In comparison, the modern St. Michel leads an idyllic life, overlooking herds of salt-marsh sheep, marketing its own brand of butter cookies, and serving omelets at 45 euros a dish in its popular Mere Poulard restaurant. It has its share of fame too, with architecture inspiring J.R.R. Tolkien's seven-walled city of Minas Tirith. Google has the fuller story, but to make a long entry short, I'll end the mini history lesson.
Our company's bus stopped here for a brief visit en route from southern France to Ireland (the rest of the journey was mostly conducted by ferry). With a low tide, full afternoon sunlight, and a moderate flow of tourists, it was an ideal day for exploring—excepting the 40-minute time limit set by our schedule. To avoid the crowds, our projection specialist led the way up a set of side stairs, followed by a few orchestra members and me. The steps led us through a labyrinth of windy alleys and tiny backyards blooming with flowers. We caught glimpses of Le Mont St. Michel's life behind-the-scenes, including a private sculpture garden, an ornate cemetery, and a mother with two little boys—(possibly) three of the island's forty-some permanent residents.
Our shortcut became a scenic detour, as we reached the top of the rock behind much of our group. Lured by the ocean breeze, I paused to peek over the parapets. Even at this height, it was difficult to see any water. A vast, dry wasteland surrounded the island, courtesy of the low tide. With the skies above, sand below, and sea beyond, it's easy to imagine how the monks of the monastery must have felt completely isolated from secular society. Here was a perfectly secluded oasis—a world unto itself.
It's not quite Middle Earth, but it's close enough.

Jade Zhan
Contributing writer
March 29, 2011