A+ With the Ancients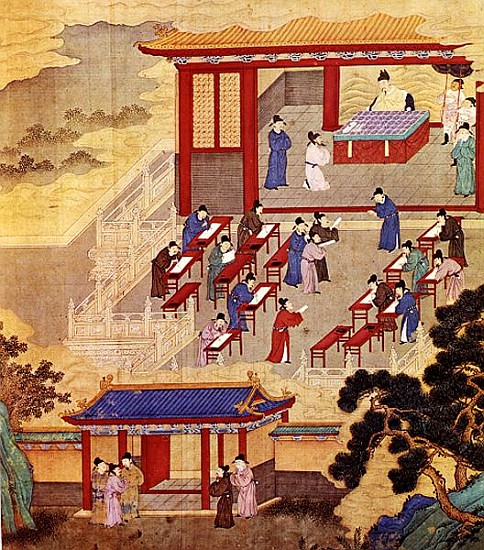 Do you think of school with excitement or dread? Ancient students knew the importance of hitting the books— maybe even too hard.
China's first schools were established over 4,000 years ago. Throughout the millennia, aspiring minds from all backgrounds studied diligently in imperial academies and colleges and private schools run by scholars like Confucius himself.
Their ultimate goal? To pass the civil service examinations—a nationwide selection system established during the Sui Dynasty (581–618 C.E.), perfected during the Tang (618–907 C.E.), and in effect until the early1900's. Those who passed the county exam advanced onto provincial and then imperial tests. High scorers were conferred positions in all strata of government and brought great honor upon their families.
This time-honored spirit of academic application is evident in many stories and even common expressions. Perhaps these idioms will inspire (or maybe frighten) you to hit the books a little harder.
This Little Light of Mine
Many great minds came from humble beginnings. Back in the day, poorer families shared a common problem: no money to brighten up their homes at night. But imaginative and determined as they were, their studious kids never gave up…
Idiom: Boring a Hole in the Wall to Borrow Light 鑿壁偷光
Growing up during the Western Han Dynasty (206 B.C.E – 24 C.E.), the young Kuang Heng couldn't afford tuition or books. Instead, he worked odd jobs for rich families during the day, trading labor for access to their libraries.
One night, while reciting verses to himself in the dark, he noticed a crack of light coming through the wall. His neighbor had lit a candle! He quickly grabbed a small knife to whittle the gap a bit wider. A sufficient beam shone onto his book, and he found a way to study.
Idiom: Bagging Fireflies and Reflecting Snow 囊螢映雪
During the Jin Dynasty (265–420 C.E.) two strapped boys knew how to take advantage of the seasons:
One of them went out every summer night and caught dozens of fireflies to light his makeshift lamp. The other studied outdoors in the bitter winter night. Why? He read by moonlight reflected off the snow-covered ground. Whenever his fingers became too numb to hold his scrolls, he'd run a few laps around the yard before returning to his verses.
These lads eventually became, respectively, the Jin's Minister of Personnel and Imperial Censor.
The Painfully Assiduous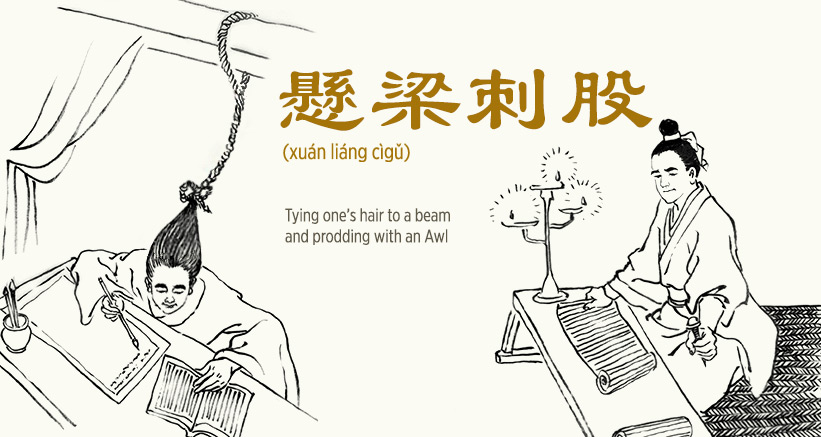 Idiom: Hanging From a Beam and Stabbing with an Awl 懸梁刺股
Ever pinched yourself while nodding off in class? To combat sleep, ancient students also resorted to pain…
During the Eastern Han (25–220 C.E.), little Sun Jing was sick of snoozing away precious time. He got a piece of rope, tied one end to his hair and the other to a ceiling beam. This way, if he nodded off, he'd wake up from a sharp pull on his scalp. For his efforts, he became an illustrious statesman.
During the Warring States (475–221 B.C.E) period, strategist Su Qin had lofty aspirations. He got off to a rocky start, however, and was rejected by every leader he wanted to serve. Undaunted, he locked himself in his room to study the art of war around the clock. His only companion was a long awl (a leather-piercing tool) that he'd stab into his thigh whenever he felt sleepy. Yes, there was blood.
After one year, he left his room to tour the country and successfully united six enemy states into a coalition against the Qin.
Idiom: Snow Piles Outside Cheng's Gate 程門立雪
During the Northern Song Dynasty (960–1127 C.E), Yang Shi had already passed the highest imperial exams. Still pining for knowledge, he decided to seek out one of the greatest philosophers of the age.
Yang's timing wasn't great: the master had just laid down for a nap. To be respectful, he waited patiently by the gate—in a blizzard. Apparently, when Master Cheng finally woke up, all he saw was a tall heap of snow. He then accepted his new student.
Just Keep Going
Some of the biggest names in academia believed they could never study too much.
Idiom: Breaking the Leather Binding Thrice 韋編三絕
How many years would you spend on one book? Confucius, wrote in his Analects: "If some years were added to my life, I would give fifty to the study of Yi, and then I might come to be without great faults."
In his old age, Confucius took up annotating Yi (The Book of Changes). Expounding divination, cosmology, and philosophy, Yi is one of the Five Classics of traditional education and among China's earliest books.
Confucius perused his scrolls so often that the leather bindings wore out and had to be replaced three times. Yet he still lamented not having studied them enough.
Idiom: Wang Xizhi Eats Ink 王羲之吃墨
Before being dubbed the Sage of Calligraphy, Wang Xizhi (303–361 C.E.) was already recognized for being extremely industrious. In his youth, Wang traveled far and wide to study tablet engravings made by his esteemed predecessors. At home, he was so immersed in writing that he forgot mealtimes and bedtimes on a daily basis.
Once, a tray of steamed buns and garlic sauce was brought to his desk. Later, his wife came to see if he'd been enticed by his favorite food. He was. Only he couldn't be bothered to stop practicing, and had been dipping bread into ink by mistake. "The garlic is especially savory today," the inky-mouthed workaholic allegedly said.
Word to the Wise
Now, I'm not suggesting anyone risk frostbite and ink poisoning, or vex their parents with property damage. Instead, let some of the ancients' spirit rub off on you. Study diligently. Burn the midnight oil occasionally (and figuratively). And see if you don't feel more accomplished, too.

October 22, 2015