A Different Argentina
This time of year, to withstand the biting winter, most New Yorkers like us are armored with mittens, scarves, and big coats. Fortunately, we got a break from bundling up this holiday season, as our company migrated south to Argentina.
Normally, we spend the first half of tour waiting for spring to arrive—we're always telling each other that sunny days are right around the corner. But this year, it seems as if we skipped spring altogether and fast-forwarded straight to summer.
Being my first time in South America, I didn't know much about its customs and culture. Like many of my fellow company members, I was mostly expecting to buy leather goods and chomp on steak. After spending a few days in Buenos Aires, however, I learned that there is much more to Argentina than its illustrious cow products.
We got our first taste of the Argentine spirit as soon as we arrived at the capital. Trudging through the sweltering heat, we could hear drumbeats echoing in the distance. As we made our way into the city, we passed by hoards of people on the sidewalks, chanting in unison as they brandished banners and flags. Some raised their fists in the air, while others banged on trashcans and buckets. Occasionally, a bus swerved past with people leaning out the windows, faces flush with fervor.
What was going on? Was this a rally or a protest?
Turns out we made it just in time to celebrate National Democracy and Human Rights Day with the locals. Apparently, Argentinians get 150 days a year to celebrate, whether it's to commemorate the death of a hero, glorify the strongest bull, or feast on their beloved empanadas. As dancer Gary Liu put it, "It seems like there's a party going on here every day!"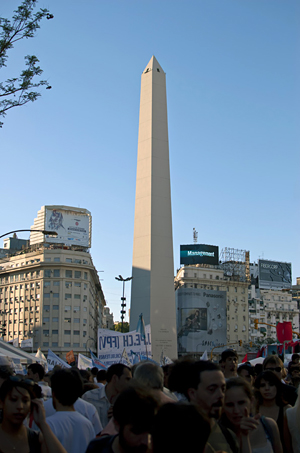 Three days later, we found ourselves amidst another festivity. In Buenos Aires, there is a futbol club called the Boca Juniors. Boca aficionados consider themselves to be the team's 12th man, so they consecrated December 12, 2012, or "12-12-12," as the "World Day for Boca Fans." Thousands assembled to observe this holiday, which only comes once every millennium. But they weren't idolizing the team or any particular player; rather, they were commending their own futbol fanaticism.
That day, it just so happened that we were shopping around town when suddenly, hordes of fans dressed in gold and blue jerseys swarmed the sidewalks. Now, don't get me wrong: I have nothing against sports enthusiasts. But there were over 50,000 futbol fanatics, making a great pilgrimage to the Obelisk in the center of Buenos Aires (right outside our hotel) to show their allegiance to the Boca Juniors. This was somewhat intimidating, considering that we couldn't comprehend anything they were saying, other than "BOCAAAAAA!" What's worse, they started setting off firecrackers loud as cannons.
We sought refuge at a nearby cafe. It seemed like we were finally safe and sound until, out of the corner of my eye, I spotted a few soccer fans sitting at a table, sipping cold drinks.
Not good. I seriously considered running across the street and retreating elsewhere. But these girls weren't being rowdy or anything; they looked around my age, and they were Asian…
Wait a second. Asian Boca fans? I don't think so.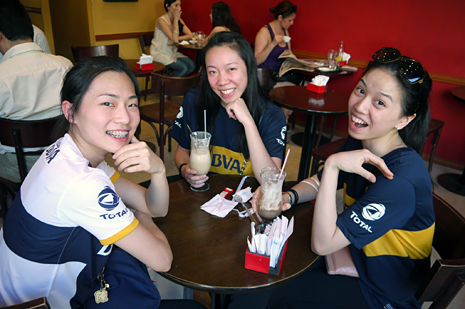 "Diana? Faustina? Chen Xin?" I stared at my fellow dancers in disbelief. "What's the meaning of this?! Don't tell me you've become... one of them!"
Faustina refused to answer; she was too busy suppressing her giggles while pretending to slurp her latte.
Diana, on the other hand, dove right into their story: "We just wanted to buy something super Argentinian, so we went to the Nike store and bought these jerseys. But after we put them on and stepped outside, we realized we were wearing the same thing as everyone else! We had no idea it was their holiday! Every single person stared at us; they would give us thumbs up, or raise their fists in the air and holler: "YEAH! BOCA!"
Well, at least they made some friends that day. Long story short, the Boca fans loved them.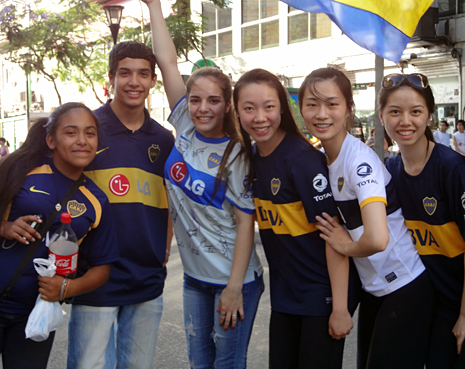 Even with all the celebrations, I have come to the conclusion that Argentinians are quite laid back. Most stores don't open until 2 p.m., because people like to party at night and sleep in until noon. Their deferred schedules make the days seem longer. Faustina says we're just unaccustomed to their later meal times and nocturnal lifestyles, but I wonder if there's more to it than that.

Alison Chen
Contributing writer
December 30, 2012