Lost in the Winspear Opera House
One day during the 2010 tour, a crazy thought popped into my head: "I can't possibly imagine, in my wildest dreams, what next year's tour might be like, what kind of dances we might be doing, and where we might go." But now the new 2011 season's tour has flashed by so quickly, that even that day… feels like yesterday.
Now I'm home for a two-week break. I no longer need to follow a strict daily schedule, endure long bus rides, stretch and kick every day (though I still do), perform on stage almost every night, set an alarm clock for the morning, or watch what I eat. Actually that's not true—I never watch what I eat!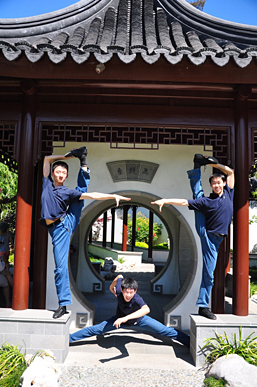 Reminiscing about all the good times we had on tour while looking through my large collection of photos and has been one of the few meaningful things I've done these past few days. Of course, it's nice to be back home to reunite with family and old friends, take a break and catch up on some sleep. Nevertheless, I feel like every minute we spend on tour is ten times more worthwhile than a minute spent at home, killing time.
Apart from all the sweat and hard work, we also have a lot of fun on tour—as you can probably tell from the photoblogs. Every year we perform more than 300 shows in around 20 countries. We get to see the world and, of course, taste the world too. Every theatre we perform in is different, and there are always interesting happenings and funny stories to tell.
I still remember the first time I performed in Dallas, in 2010. When the last show was over, our stage manager notified the union stagehands that we would be packed up and ready to leave within an hour. Now, these were professionals who have seen hundreds of productions set up, perform, and leave, and they didn't believe us at first. However, when we finished everything and left the theatre in 45 minutes, the stagehands were quite astounded.
To meet the demands of our cramped show schedule we always try to pack as quickly as possible at every theatre. As soon as the curtain drops after curtain call, everyone literally races to gather costumes, props, and equipment. More than 400 costumes; countless hairpieces, tools, musical instruments, and all the lighting, audio, and projection equipment are folded away, rolled up, bundled together and then stowed into boxes and suitcases into a tiny space in the back of our truck. Provided that every person finishes his own packing responsibilities on time, and the various teams coordinate well, the whole troupe can accomplish this together at a phenomenal speed.
Naturally, Shen Yun Performing Arts never fails to impress both on stage… and backstage!
In this past 2011 season we performed in Dallas again. After four well-attended and well-received performances, it was time to pack up and leave. Apart from packing hairpieces this year, my other responsibility was to help the projector team deliver the projectors from where they perch on the balcony to the loading dock. It was my first time on the job.
After the show was over I arrived at the projectionist's control booth on the fourth floor. Most of the technical equipment and both projectors had already been safely placed inside their cases. Now it was my turn to make sure they checked in at the backstage loading dock as soon as possible. The truck was waiting.
I was the only one on the team skinny enough, so I volunteered myself and squeezed inside the small elevator with the equipment. After I finally got situated, I faintly caught directions shouted to me through the closing door: "Go to the fourth floor, then take the outside elevator, but go to 4b first. We'll meet you on 4."
Those instructions certainly made no sense, but it was too late to turn back now.

The Winspear Opera House boasts a state-of-the-art horseshoe-shaped design by an award-winning architect. But what was he thinking when he designed the elevators? Why was there a random elevator in the middle of the lobby? Why were two separate floors named 4a and 4b? Why was there no "Ground Floor" button? Why was the outside door even narrower than the elevator doors? And most importantly, WHERE WAS EVERYONE ELSE?
These thoughts whizzed through my head as I struggled to push my boxes outside into the hallway, and then again to the "outside elevator," quite a distance from where I had landed. By the way, I had no idea where I had landed. The doorway was too small for all the boxes to fit through so I had to make the trip twice. The velvety carpet exerted so much friction against the already too-heavy boxes that I had to lean forward to apply my entire body weight (which, unfortunately, was not much). Both my calves had become severely cramped before I even made it to the ground floor.
Much to my dismay, there was not a single soul left in the lobby. Even the kindhearted theater usher who had helped me open a pass-coded door to the backstage a minute ago had disappeared. It was one of those I-cannot-believe-this-is-actually-happening-to-me moments.
So there I was, in an unfamiliar lobby, all alone, locked out, panting heavily, already sweating, with a several hundred pound projector, trying yet failing to get to the loading dock.
After a maze of hallways and locked doors, somehow I made it to the loading dock—only 10 minutes late. If I had come any later, I could have delayed our final departure time.
There was a general uproar of "where on earth have you been!" as the long-lost cases—the last missing pieces of the jigsaw—were finally installed into their correct slots. The truck-loading team was sympathetic but amused by the slightly sensationalized tale of my plight.
However, it was my turn to be amused when they told me that after I had been officially declared "Missing In Action" and a search party had been sent out into the lobby to look for me.
As it turned out, neither side found the other. That's sad. Oh well. I'll just do better next time. Or at least so I hoped…

May 30, 2011