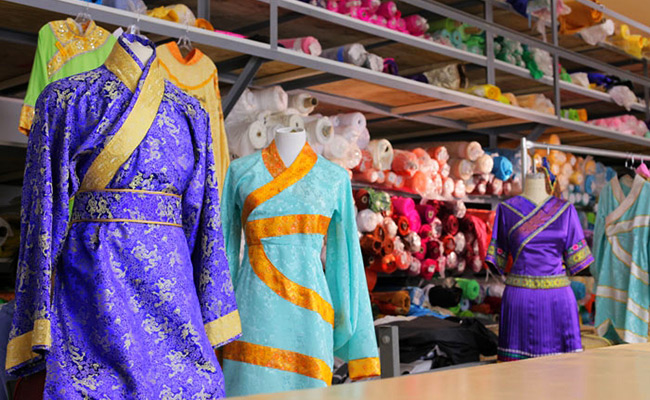 Shen Yun Couture
One thing you won't forget after seeing a Shen Yun performance is the costumes. I can't count the number of times someone told me after the show: "I love the color, the dresses, the silk..." So I thought it would be nice to take everyone behind the scenes, to experience the making (and wearing) of these glamorous pieces.
Each Shen Yun performance showcases more than 400 Chinese costumes. And what is seen on stage is the result of approximately eighteen thousand nine hundred and seventy six and a half hours of drawing, cutting and sewing, more or less. Of course, they're all handmade and often hand stitched.
Not including research and design time, each individual costume takes between 8-15 hours to make, and that's if the piece passes the dance-test. Most will then take another 4-8 hours of nanoscale fitting and adjusting.
Yesterday, I went to my fourth fitting of a dress for this year's show. I can't say I like fittings. It's hard to feel comfortable while circled by half a dozen ladies poking needles and pins into your clothes. But when finished, the costumes look gorgeous.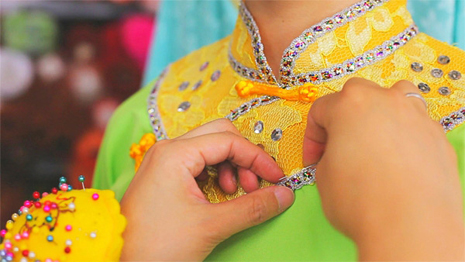 I especially love the detail put into each piece, even though the vast majority of the audience won't be close enough to see it. Most people won't know that the thousands of crystal or sequin decorations are individually strung together bead by bead, or ever catch the intricate ornamentation on the back of a coronet.
Plus, there's the thrill of wearing an all-original design. These costumes are true to the style of attire worn by people of distant ages and faraway lands (or even heavens) and, at the same time, they also are completely new and never-before seen.
How are they designed? Drawn from Chinese traditions and the dress of China's diverse ethnic groups, our costumes are specific to the time and place of each dance. My favorite over the years is the Tang dynasty gown. It features huge scooping sleeves, a long flowing skirt, and a silk ribbon belt. If Cinderella were Chinese, this would be her dress. Wearing it can make anyone feel graceful.
That's if you're just standing, motionless; dancing in the dress is another matter. The unexpected is always expected at the first annual dress rehearsal. This is when we turn the stage into a lab. Here, props, costumes, headwear, 40 dancers, and chemical X (for anXiety) mix for the first time. It's hard to look graceful while trying to untangle sleeves (yours or someone else's) from your hairpiece, or spin with dangly earrings whacking your eyes.
No worries though. By the time we leave for tour, we'll have fixed everything. Nonstop dress rehearsals for four months will perfect the show. In fact, in one of last week's rehearsals, we found some issues with a set of long silk ribbons. Something didn't work well in the balance of length and weight, and the ribbons easily tangled. A few of us got completely wrapped up in them. The next day we sent them back for adjustment. By the time you see us on stage, you will get the untangled version.

Cindy Liu
Principal Dancer
November 16, 2013