Life On Tour: Down DC Memory Lane
My first vague memory of Washington, D.C was when I was still in Australia. My mum had gone to America for a trip, and I remember her coming back with a suitcase full of T-shirts and souvenirs with "Washington DC" printed all over them.
Since dancing with Shen Yun starting in 2007, I've visited the capital at least once a year. This past season, our two-week, 13-show stint in March was my sixth time performing at Washington's Kennedy Center Opera House. Every single time, I managed to occupy the same makeup table in the same dressing room.
But over the years we've also had a chance to explore the city and discover, believe it or not, that there's much more to DC than the insides of the theater and the hotel.
We visited the historical USS Sequoia—a former presidential yacht used from President Hoover to President Carter. It was hard to believe we were occupying the same space where President Kennedy had his last birthday party and President Truman decided to drop the bomb.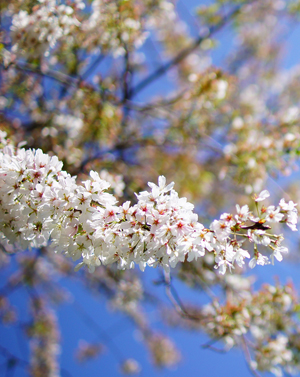 DC's Cherry blossom during our Kennedy Center
performance run.
We also visited the National Gallery of Art and the National Air and Space Museum. Both were fascinating. Strolling through the museums reminded me of movies like National Treasure and Night at the Museum.
And this year, the timing was just right. At the beginning of each spring, along the shore of the Tidal Basin, Japanese cherry trees are in full bloom. This year, they blossomed early and we caught them just at their peak!
With three Shen Yun companies each assigned different schedules, I've been spoiled to see DC so many times—especially as an Australian. And yet, I hope to come back to Washington soon—there's so much more to discover!

July 31, 2012