Fox 5 Anchor Ernie Anastos Says Shen Yun Was 'Breathtaking'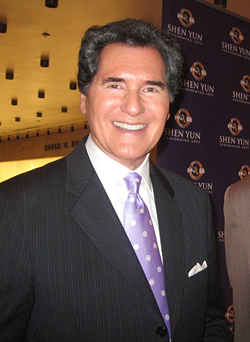 NEW YORK—Ernie Anastos, an Emmy-award winning anchor at FOX 5 was in the audience for Friday evening's Shen Yun Performing Arts show at Lincoln Center. Although he left at intermission to make it to the studio in time for the live news program, Mr. Anastos said that he thoroughly enjoyed the performance.
"I think the performance is extraordinary, I think there is terrific talent," he commented. "The presentation and spirituality of the performance … the choreography was great. It was breathtaking, all the acts were great."
Mr. Anastos felt that the message within many of Shen Yun's pieces resonated with the audience. "All the acts were great, just beautiful, and there's a message in every act, every performance, about the culture, the history, and also the present day."
On stage, dancers depict scenes from ancient and present-day China, including stories from folk tales and legends. Mr. Anastos said that the artistic design made the stories come alive. "I always look to see what the presentation is like … I think the backdrop and visuals are great," he said.
"I also think the timing is great, I'm always aware of time, because of what I do. Each performance moves in a nice beat, and I like that," Mr. Anastos said.
Asked how he felt about the messages conveyed by the program, he said: "I enjoy history and I enjoy current events. This is a combination of the two. It gives me a nice perspective.
"I just thought the show was so tastefully done, so creative, and the messages are very strong—a message of spirituality, of finding ourselves, who we are, and where we came from," he said. "I think we need that kind of understanding more than ever. A better understanding of mankind and appreciation for all people."
While he only was able to attend half of the show, he won't forget it.
"I'm going to mention it on the news that I think it's a great performance and people should see it," he said before leaving the theater.
June 27, 2011