Shen Yun Reviews: Russian Countess Says Shen Yun 'Has the grandeur of an imperial court'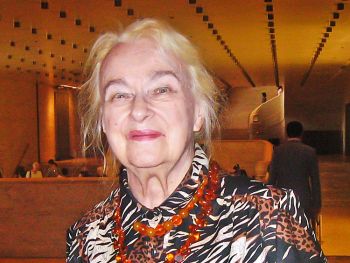 Following the performance in the David H. Koch Theater, Countess Nicholas Bobrinskoy of the Russian royal family, said, "It's fabulous, it's beautiful, and I suppose this is the kind of show that was given at the various royal and imperial courts."
Countess Bobrinskoy's late husband was the great, great, great grandson of Empress Catherine the Great of Russia, who ruled from 1762 to 1796. Countess Bobrinskoy now carries her husband's legacy as a designer, creating custom fabrics and wall coverings for some of the world's top designers and museums.
"It has the grandeur of an imperial court," Countess Bobrinskoy said, adding she is aware of what the royal court dancers were like in St. Petersburg, Russia before the communist regime took over. She noted the Sunday performance "has the same kind of fruit."
"It's very meaningful also," she said. "It isn't just fairy tales."
Countess Bobrinskoy noted that under the Chinese communist regime, the country saw "the destruction of all wonderful, beautiful, historical China—ruining what they had."
"What is being done today by this group is really restoring it. It's like a miracle. I couldn't believe my eyes, of what I was seeing—the beauty of it ... and to understand what this was about," she said.
"I'm very grateful that this has happened, and this is going to develop and continue," Countess Bobrinskoy said, adding that people "need to know much more about all of our true cultures."
Countess Bobrinskoy compared the situation of Chinese dancers to that of Russian ballet dancers who had to flee the Soviet Union in order to dance.
"I know you can't do anything with China right now, but one day will come," she said. "This is the freedom of spirit that will always remain.
July 3, 2011