Shen Yun Reviews: Legendární holywoodská herečka očarována Shen Yun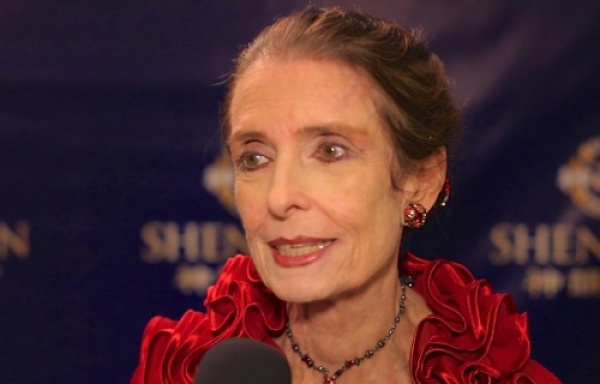 LOS ANGELES - "Bylo to úžasné," poznamenala legendární herečka Margaret O'Brienová po zhlédnutí premiéry souboru Shen Yun Performing Arts 24. ledna 2013 v Dorothy Chandler Pavilion.
Slavná herečka Margaret O'Brienová se stala holywoodskou legendou. V roce 1944 obdržela Oscara za mimořádný dětský herecký výkon. Na holywoodském chodníku slávy má dvě hvězdy a za svou celoživotní práci obdržela řadu ocenění. Během svojí kariéry však nepůsobila pouze ve světě filmu, ale také na jevištích, v různých show na Broadwayi a také v televizi i rádiu.
Představení Shen Yun bylo pro madam O'Brienovou opravdu jedinečným zážitkem: "Tolik to (pro mě) znamená! Ani vám nedokážu říct, jak moc! Bylo to úžasné. Je to můj dárek k narozeninám, dnes mám narozeniny. Velmi jsem chtěla tohle představení vidět!"
Klasický čínský tanec
Slavná herečka dokáže ocenit klasický čínský tanec, který soubor Shen Yun používá, profesionálním okem: "Vím, jak těžké tančení je, protože jsem byla tanečnicí, moje maminka byla tanečnice, a tak vím, jaká je to dřina. Velmi se mi líbí ten tanec a jeho preciznost. Elegantní! Nádherné!" chválila O'Brienová umělce a dodala: "Myslím si, že si lidé neuvědomují všechnu tu práci, kterou tanečníci musejí odvést, jak moc musíte tanec milovat a jaká fyzická rizika jsou s tančením spojená. Proto obdivuji všechny ty mladé lidi, kteří v představení vystupují a tak nádherně tančí."
Inspirace pro mládež
Jako sběratelka čínského umění dokáže Margaret O'Brienová starou čínskou kulturu ocenit.
"Myslím si, že co je na tom tak nádherné, je to, že představení oživuje krásnou kulturu Číny, tu starou kulturu. Čtu všechny knihy o čínské kultuře. Tohle přestavení mi přineslo tolik! Dnes není naší staré kultury dost, v žádné zemi," řekla herečka.
Podle ní je důležité, aby krásu a odkaz tradiční čínské kultury zažilo víc lidí, obzvlášť pak ti mladí.
"Chci všem mladým lidem říct, aby se určitě na tohle představení přišli podívat, protože oživuje krásu tance, preciznost tance a kulturu Číny. Řeknu to své dceři, aby určitě přivedla všechny své přátele z řad mladých, protože tohle je dnes opravdu důležité," ubezpečovala vážená "dáma ze stříbrného plátna".
Premiéra v Dorothy Chandler Pavilion skončila ovacemi diváků ve stoje.
January 25, 2013