Shen Yun Reviews: Ray LaHood, Sec. of Transportation, Gives Shen Yun Top Rating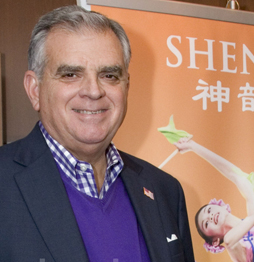 Ray LaHood, secretary of the U.S.Department
of Transportation, attends Shen Yun at the
Kennedy Center Opera House in Washington D.C.
Sunday March 25.
WASHINGTON—United States Secretary of Transportation Ray LaHood and his wife attended Shen Yun Touring Company on Sunday March 25.
"I'd give it an A-plus," Mr. LaHood said after seeing Shen Yun at the Kennedy Center Opera House in Washington. "We live across from the Kennedy, so we like to come to the Kennedy—we wanted to see this performance."
Mr. LaHood, the 16th secretary of transportation, was appointed by President Obama in 2009. He heads a $70 billion budget agency that oversees air, maritime, and surface transportation, and over 55,000 employees. Prior, he had served as House Representative for the district of Illinois for 14 years.
"The precision of the dancers is just perfect," he said after the show, "I'll definitely recommend it. It's beautiful."
Former Dept of Defense CIO: Shen Yun 'Feeds your heart, spirit, and mind'
Amelia Grazioso, former chief information officer at the Department of Defense, was also in the audience on Sunday, March 25.
"It was absolutely awesome and inspiring—it really, really was. And I am just so glad that it is here in the U.S. " Ms. Grazioso said, "We need positive energy here, we really do, and this was absolutely positive energy."
"I loved how each segment was explained so that you knew what the lesson was and that there was a purpose to every performance. This way you are being engaged physically, emotionally, spiritually. It was just awesome and I just hope everybody in that room, well at least the majority, got as much as I did from it."
However, Ms. Grazioso expressed her confusion as to why Shen Yun is not allowed to perform in China. "That amazes me, it baffles me and I don't understand it. Because if you are a people of peace and love and compassion and tolerance, and yet you [communist regime] don't allow something like this to be displayed… [Shen Yun] is done with total art and total respect. I noticed all the little nuances that they have added to the show that is utter respect, total respect. So I don't understand it."
For those who have yet to experience Shen Yun, Ms. Grazioso shared: "It is something to be experienced, but go with an open mind and an open heart, and just sit and take in everything that it gives you. Because really, there is so much to be gained from it. And it is not only visual. It just feeds your heart and feeds your spirit and your mind. And it's all good."
March 28, 2012