Shen Yun Reviews: Milan Uhde na představení Shen Yun: Je to velké umění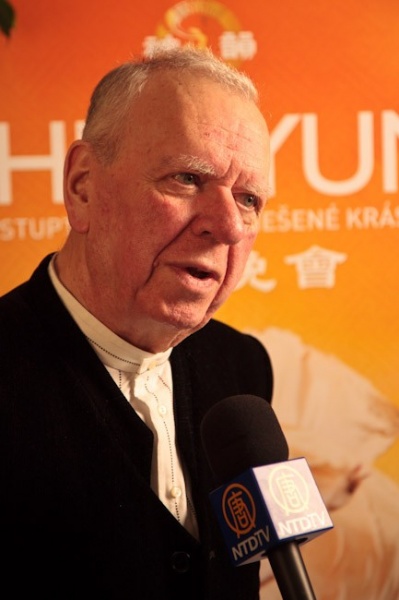 Již po druhé hostilo brněnské Janáčkovo divadlo soubor Shen Yun Performing Arts, světovou špičku v oblasti klasického čínského tance.
Pondělní premiéry se zúčastnil i bývalý ministr kultury a dramatik Milan Uhde. Rodilý Brňan za svoje díla získal čtyři prestižní ocenění. Na Shen Yun vyzdvihl zejména tanečníky: "Taneční výkony byly vynikající, znamenité. Tanečníci jsou výborní ... jsem rád, že jsem přišel."
Technicky náročné prvky tanečníků na něj zapůsobily: "Nevidí se to každý rok. Je to mimořádná záležitost, něco autentického."
Klasický čínsky tanec obsahuje množství specifických pohybů, je jedním z nejbohatších tanečních systémů na světě. "Díval jsem se na ty tanečnice a je to veliké umění," poznamenal pan Uhde.
Milan Uhde je kromě velké kulturní osobnosti také signatář Charty 77 a v předlistopadovém období byl režimem pronásledovaný za článek v Rudém Právu. Dostal se na seznam zakázaných spisovatelů, jeho knihy byly odstraněné z veřejných knihoven a bylo mu zakázano vykonávat jakoukoli práci za mzdu. Díky osobním zkušenostem s represemi totalitního režimu je pro něj současná situace v Číně pochopitelnější. "(Shen Yun) je jeden z mála prostředků, jak připomenout, že ty poměry v Číně nejsou normální, že její ekonomické úspěchy jsou podmíněny zotročováním stamiliónů lidí, kteří si toho zřejmě nejsou vědomi, ale já si myslím, že jsou si toho vědomi, a já jsem přesvědčen, že na to jednoho dne dojde. Takže já to beru jako takovou připomínku, že se na to někdo dívá normálně."
Známým by doporučil, aby se na představení šli podívat, protože "to, co dokážou je prostě fantastické".
"Je to zážitek na celý život, vyplatí se to," uzavřel.
April 19, 2010