Shen Yun Reviews: Hollywood Film Producer and Writer: 'It was the best show that I've ever seen'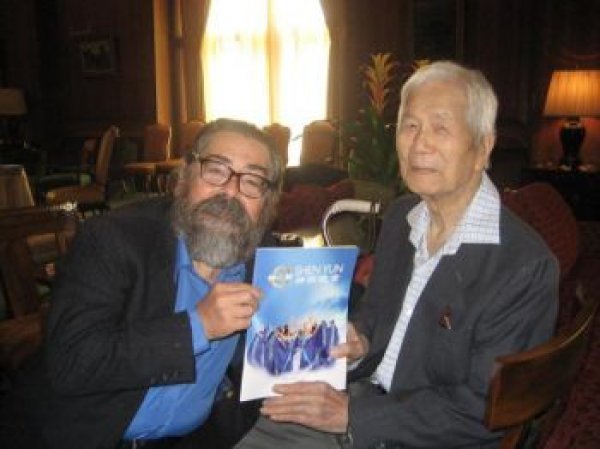 Renowned writer and film producer Jon Mercedes
LOS ANGELES—Renowned writer and film producer Jon Mercedes was energized after attending the Shen Yun performance this afternoon at the Music Center's Dorothy Chandler Pavilion.

"First of all, it was the best show that I've ever seen, when it covered five thousand years of culture of this wonderful country, China. I was amazed at the precision and the excellence of the dancers, the singers, and everybody in the show. Also the costumes, they were so beautiful. It was fantastic," said Mr. Mercedes.

"I would love to see it again, two or three times, but I understand that it is leaving tomorrow," he added.

Mr. Mercedes has been in show business in Hollywood since 1968 and has seen "hundreds of shows."
"The production values were excellent, excellent, excellent. The artists were wonderful, and [so was] the way they did it with the background and the translation," said Mr. Mercedes.
Jon loved the music of the Shen Yun orchestra so much that he wants to listen to it at home. "Very peaceful, very peaceful. I would love to have a recording of the music," said Mr. Mercedes.

"I think that you could be at home, listening to the music, drinking tea, and it would be very soothing and peaceful for your mind. I think it would relieve stress and cure people from illnesses," added Mr. Mercedes.
Another aspect of Shen Yun that Mr. Mercedes appreciated is how the show is suitable for everyone and not just Chinese. In fact, the majority attending the show are Westerners.

"I would recommend this show to anybody, it doesn't matter if they are Chinese, Mexican, African American, or white, I recommend it to everybody because it is a show about the human condition and human values," said Mr. Mercedes.

And, "every aspect of the show I loved," added Mr. Mercedes.

Jon's debut as a film producer was Pale Horse, Pale Rider, which was featured at film festivals all around the world. The film was based on Katherine Anne Porter's Pulitzer Prize-winning short story, and starred Charlene Tilton (Dallas) and Ray Walston (Picket Fences).

Mr. Mercedes also founded three companies: Mercedes/Cohen Management, United Public Relations, and then The Mercedes Company. While he was an executive at the Mercedes Company, the company developed and produced projects including Gettysburg for TNT and A Bowl of Being for PBS. Mr. Mercedes was also a writer for the hit TV series, Happy Days.
July 31, 2010