Miss United States 2010 Sees Respect and Love in Shen Yun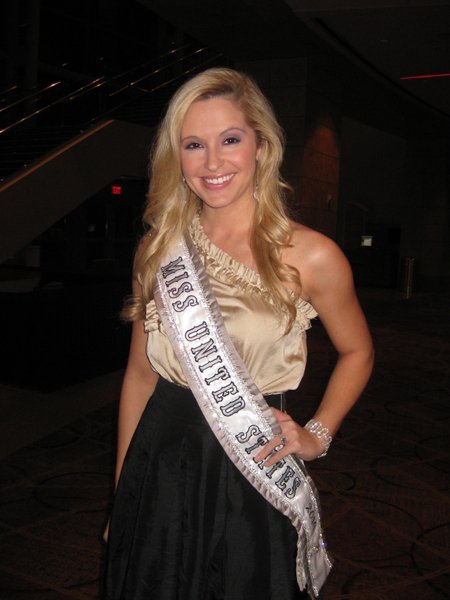 ATLANTA—Her friends saw Shen Yun Performing Arts first at the Kennedy Center in Washington. They told her that the performance was amazing and filled with emotional impact, and said that she should see it.
So when Shen Yun arrived in her home city of Atlanta, Georgia, Miss United States 2010 jumped at the chance.
"I have to say the anticipation was absolutely worth it. It was amazing. It was a great show," said the beauty queen, who uses her title to promote volunteerism, particularly for the Children's Miracle Network and Oprah's "No Phone Zone," a program aiming to put an end to texting while driving.
Miss Black attended Shen Yun with her parents and her young niece.
"My 5-year-old niece was on the edge of her seat," said Miss Black.
"The backdrops were amazing; the costumes were amazing. There were fun, light moments, but then there were some really serious moments as far as Chinese culture is concerned. ... They [Shen Yun] went all the way back from the current time, and it was absolutely amazing," she said.
Miss United States 2010 was particularly impressed by the emcees, who narrate in English and Chinese throughout the show. She said she loved the dynamic of hearing both languages.
As a dancer herself, Miss Black commented on the performers' technique, "They were absolutely amazing dancers," she said. She found the male dancers "absolutely outstanding."
"I had chill bumps. I really had chill bumps," she said, "In the sad moments, and in the happy moments, you feel all of that."
"And I think it's amazing [that] you have people from the Western world who can come here and cultivate and show the rest of the world what 5,000 years of Chinese culture really is. That's the best part," she added.
As a devotee to community service, Miss Black said she really connected with Shen Yun, "because it's a way to take your culture and show it to the world, and give it to the world."
"It's all about peace and love and respect. For me, that's what being Miss United States is about as well," she said, "Women could learn from Shen Yun the great attributes of what a true woman can be."
"There were different numbers where there were only female dancers, and they showed beauty, they showed grace, and they showed respect," she said.
"I think it's the most fantastic [show]. … I've never seen anything like it," said Miss Black.
"I'm definitely going to see the show again in New York, and next year, because it was absolutely amazing," she concluded.
April 4, 2011