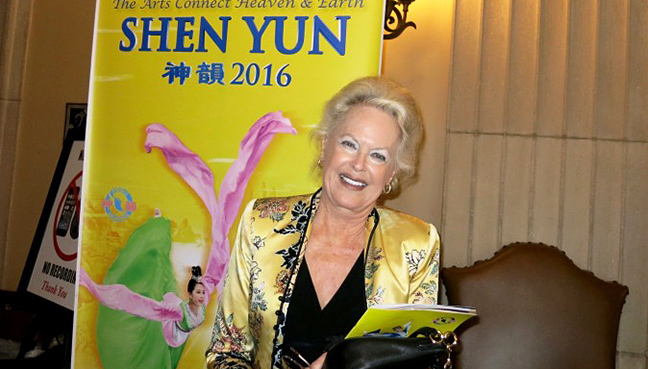 Shen Yun Reviews: Shakespearean Professor Says Shen Yun Miraculous, Inspiring
CONTENT PROVIDED BY THE EPOCH TIMES
CLAREMONT, Calif—Martha Andresen is a scholar of the arts, a professor of English for 30 years, and a Crystal Quill Award winner for her Shakespearean scholarship. It is her belief that art, and the study of it, can give such insight that it impacts our lives. Therein lies the spark for creativity and creative thinking, the nexus between performing arts and humanity.
On April 8, she witnessed this in full form on stage at the Bridges Auditorium at Pomona College, where she has taught. In Shen Yun Performing Arts, she witnessed inspiration.
"We are the recipients of this ancient, beautiful culture," Ms. Andresen said of the performance. She had seen her fair share of theatrical performances, but never anything like this.
It was something "that we would never see ordinarily, and it's also a valuing of a spiritual life that's deeply moving and inspiring, that cuts across culture, that makes you realize the aspirations of so many people who may or may not have the liberty to express those in China," Ms. Andresen said.
What Shen Yun presented for Ms. Andresen was another side of China.
Looking around the auditorium, she saw audience members of all ethnicities and ages.
"They're hungry to know more of this mysterious country where we only get one side of it via the media," she said. We do not hear or see these beautiful artistic forms, she said, so Shen Yun allows us a whole other way to see how China evolved its spirituality.
And the culture was communicated in a beautiful way.
"The performers are absolutely exquisite. The effort and the reverence that have been put into it are so evident to us," she said. "So I feel very grateful to have had this vision of a whole other side of a culture that I thought did not exist anymore in China."
Her amazement was such that she wanted to extend gratitude to the performers for their "efforts to create this for audiences here, so we understand a whole other side of life that's so much more ancient than our culture and has much to teach us."
The Beauty of it All
Shen Yun's mission to revive a nearly-lost culture would not be so touching if the performance were not presented in the most beautiful of ways. According to Ms. Andresen, the artists sought perfection and achieved it.
"The dancing is miraculous. These dancers are so well trained and so beautiful and so perfectly choreographed. I just marvel at the artistry of the dancers," she said. "They're all perfect and beautiful, and they're all in the spirit of the music and of the mission, you can feel that they are really committed to perfection, to show us the best they can do."
In addition to the classical Chinese dance pieces, story-based dances, and ethnic and folk dances, Shen Yun presents bel canto vocal pieces. These are all art forms Shen Yun aims to revive, as the heart of these dances have been left by the wayside in modern China, and the authentic bel canto technique is rarely practiced today.
The songs, Ms. Andresen said, were beautiful in both the delivery and lyrics. They spoke of a vision of life, she said.
"All of this is so ancient, and so important to know and think about: that there is a way that we maybe have multiple lives, that we evolve in this earth through difficulty, and that there is beauty in this world."
Through these arts and this ancient culture that has been saved, Ms. Andresen said, we were reminded of something important to humanity.
"We are reminded of a spirituality that's central to our human lives."
"It takes many forms: art, visualizing something in a certain way, we have to remove ourselves from the political and the material and the concern with power and possession, and think about human life on a much broader scale, and a much deeper way in our hearts as a whole to understand this world better and ourselves," she said.
Shen Yun is "deeply inspiring," Ms. Andresen said.
April 8, 2016