Virtuoso Pianist: 'An abundance of magical things'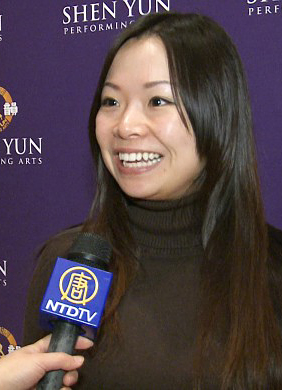 NEW YORK— "Once the opening piece started, I was truly moved," said Kelly Lin, a virtuoso pianist who learned from internationally-acclaimed Daniel Epstein. "The whole scene was splendid, and the music—oh my tears just dropped," she said.
Ms. Lin said the performance was filled with "an abundance of magical things—very artistic."
"This is my first time attending this show; I was not prepared," she said. "I thought the music was superb … the music and dance were melded into one."
Ms. Lin was surprised to learn that Shen Yun's music is composed specifically for each performance.
"Very original," she said, impressed. "It was very special. In just one performance, I was able to see so many different dances, different folklore, and different characteristics of folktales."
As a native from Taiwan, Lin was particularly amazed to see the In the Mountains, the Taiwanese Amei Dance.
"I never would have thought the Taiwanese Amei ethnic group would be in this show too," she said. "I was very moved."
Ms. Lin said that there were many children sitting nearby her. "They would ask: 'Wow, why are [the Amei dancers] nodding their heads?' Then their mother would explain it represents showing respect to elders and teachers."
Lin felt that it was outstanding how "the show incorporates filial piety." Filial piety is a Confucian virtue based on respect for parents and ancestors.
"I felt that [Shen Yun] represents the most traditional and filial of principles," Ms. Lin said.
"I feel that it is a shame today is their last show. They should have many more performances," Lin said. "I can't wait for their April performance."
January 20, 2012