Montblanc Honors Shen Yun as 'Patron of the Arts'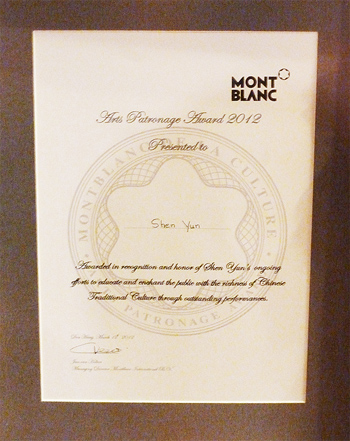 The Montblanc Arts Patronage award given to
Shen Yun Performing Arts as an initiative of
Montblanc Benelux.
THE HAGUE, The Netherlands—Shen Yun Performing Arts was awarded the Montblanc Arts Patronage Award at the Lucent Danstheater in The Hague, March 12.
Montblanc is a world leader in making sophisticated, high quality writing instruments. The company, which is named after the highest mountain in Western Europe—Mont Blanc, operates in more than 70 countries worldwide.
"We are very proud to present Shen Yun Performing Arts with our Montblanc de la Culture Arts Patronage Award. As a symbol of our recognition and respect for the rich Chinese cultural heritage that you [the audience] will discover during this magnificent performance. Five thousand years of enchanting history brought to you by the incredibly talented performers of Shen Yun," said Mr. Jan van Holten, managing director, Montblanc International B.V. in a congratulatory statement.
The Montblanc Arts Patronage Award was presented in a ceremony following the European premiere of Shen Yun Performing Arts 2012 tour at the Lucent Danstheater in The Hague.
"Montblanc is also a very big fan of cultural backgrounds and anything that has got to do with art and culture, so every year what we do is, we produce a number of writing instruments and with those writing instruments we honor people," said Mr. van Holten.
This year's award comes with a limited edition pen that honors the first patron and protector of the arts and culture known in the West, Gaius Cilnius Maecenas, who served under the Roman emperor Augustus and played an important role in protecting art and culture.
Mr. van Holten said that after watching the performance he thought it was "astonishing."
"The way it all goes smoothly and at the same time the elegance was very nice … the softness and the elegance of the ladies and the men who are a bit tougher and more forceful." Mr. van Holten said.
March 14, 2012