Otec tchajwanského filmu: Shen Yun je nejvyšší formou umění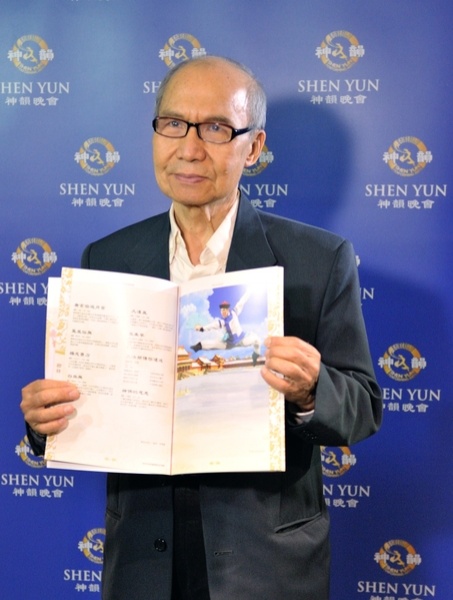 KAOHSIUNG, Tchaj-wan – Proslulý tchajwanský režisér, scénárista a producent Joseph Kuo Nan-Hong, kterému se přezdívá otec tchajwanského filmu, opakovaně navštívil představení uměleckého souboru Shen Yun Performig Arts.
Po zhlédnutí vystoupení Shen Yun 1. března prohlásil: "Domnívám se, že mnoho umělců ve světě obdivuje kvalitu Shen Yun. Je to nejvyšší forma tanečního umění, jaké může lidstvo kdy dosáhnout. Já to víc než obdivuji!"
Kuo natočil řadu romantických filmů a snímků s tématikou bojového umění. Na Shen Yun se chodí podívat každý rok. Ani letos nevynechal. "Pokaždé, když jsem to sledoval, mi to přineslo nové vjemy. Pokaždé jsem byl tak citově rozjitřen, že jsem plakal. Umělců a personálu si vážím, protože toho museli pro toto představení obětovat tolik," uvedl režisér.
Jako divadelní odborník pan Kuo potvrdil, že Shen Yun je "prvotřídní, špičkové umělecké uskupení" a uvedl příklad: "V každé scéně byly desítky umělců. Přetvořili se do 20 – 30 útvarů a každá proměna byla bez chybičky. Jak tohle dokázali, netuším!"
Zasloužilý režisér složil poklonu všem, kdo se na realizaci celého představení podílejí: "Díky nim se mohou lidé v tomto světě těšit nejvyššímu tanečnímu umění!
Představení doporučuje každému: "Na to v životě nezapomenete. Moje žena to kdysi viděla v Los Angeles a říkala, že to chce vidět znovu. Mám se setkat s přáteli v jižním Tchaj-wanu a půjdu na představení, až Shen Yun přijede do Tainanu."
March 1, 2013