Shen Yun je kulturní projekt, který velmi podporuje základní hodnoty, říká Karel Janeček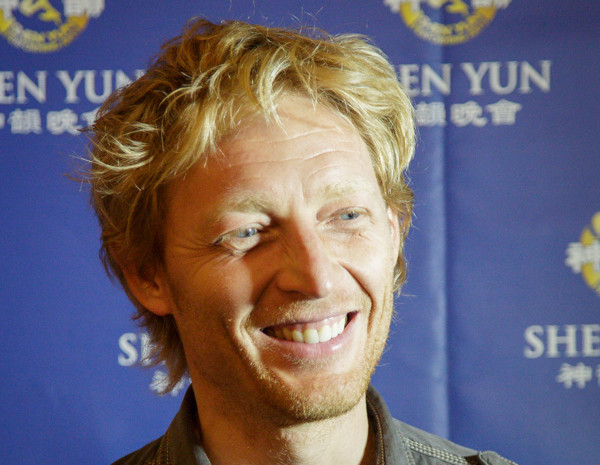 Karel Janeček, český mecenáš a filantrop, navštívil vystoupení souboru Shen Yun v Praze již podruhé. Zeptali jsme se pana Janečka na jeho dojmy z vystoupení. "Představení se mi moc líbilo. Mám velmi rád pohyb. A čínský tanec spojuje tanec a gymnastické prvky dohromady," uvádí.
Mecenáš Janeček také prozradil, proč se přišel na představení opět podívat. "Jedním důvodem bylo, že jsem představení částečně i podpořil, ale i tak bych velmi rád přišel, protože je to prostě krásné," vysvětluje.
Oslovilo ho zejména představení nazvané Kvetoucí lotosy, tanec, při němž tanečnice s dlouhými hedvábnými vějíři ladně plují po jevišti jako létající nebeské víly. "Mně se extrémně líbily ty lotosové květy, bylo úžasné, jak dámy tančily. To mne nejvíc pohltilo. Byl v tom nádherný pohyb, přemety, ta choreografie. Je úžasné, jak tanečnice lehce dělají přemety."
Členy uměleckého souboru Shen Yun, jehož posláním je obnovit prastarou čínskou kultury inspirovanou bohy, jsou také významní pěvci. Texty jejich písní podle matematika Janečka "dělají duchovní podnícení lidí. Já s tím velmi souzním," říká o operních áriích, které byly součástí vystoupení. "O těchto záležitostech také často hovořím. Konkrétně - klíčová je pravda. Kontext, podtext byl částečně náboženský, filosofický – co Bůh stvořil, co chce. Pro mne jsou klíčové pravda a láska, samozřejmě. Odvaha jít proti totalitnímu režimu," reaguje miliardář na scény zobrazující pronásledování lidí v Číně komunistickým režimem. "Je naprosto klíčové, abychom jako lidé dokázali stát za pravdou, abychom vyžadovali svobodu. Aby našimi základními hodnotami byly svoboda, pravda, spolupráce, respekt k ostatním. Věřím, že to je naše poslání, že proto tady jsme."
Podle Karla Janečka by se lidé měli těmito hodnotami řídit, "abychom dokázali přejít do dalšího stupně lidské existence, který již bude úplně na jiné úrovni, než to, co byla minulost. Dnes máme tu příležitost, protože žijeme ve světě, který má skvělé technologie, má internet, a poprvé žijeme ve světě, kde nemusíme strádat! Máme splněny základní materiální předpoklady potřebné pro každého, a proto je možné opravdu dojít k těm nejvyšším hodnotám".
Rozhovor i foto poskytly česká pobočka The Epoch Times a NTDTV.
May 19, 2014