Renowned TV Screenwriter Gets Inspiration from Seeing Shen Yun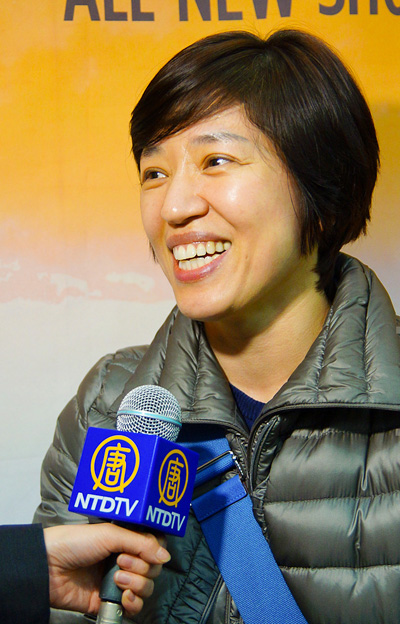 ANYANG, South Korea—Renowned screenwriter of South Korean TV series Dae Jang Geum, Ms. Kim Young Hyun, said, "I've got inspiration" for her TV series, after seeing Shen Yun.
On the evening of March 3, Shen Yun Performing Arts New York Company presented its second show at the Anyang Art Centre. After attending the show, Ms. Kim Young Hyun, South Korean's gold-medal screenwriter, said: "Because I work with historical dramas, we often deal with props, fine arts, images, and things. Shen Yun has given me some new ideas."
"The dance and music were really wonderful," she said, "I've come across some Chinese music from movies, but the live music was more marvelous. Not only was the music universally understandable, but it was also full of Chinese flavors."
"The erhu solo was very touching. It was my first time seeing an erhu performance. In the past, I had heard about the erhu, but I didn't quite understand how it was played. This performance left me with a deep impression," Ms. Kim said, "It was so wonderful and so touching."
"I was especially impressed with the music, as it was played live with both Chinese and Western musical instruments. They were very clear to my ears, and overwhelming."
'Vivid Programs'
"In fact, it is hard to conceive a new idea, but they [Shen Yun] presented many very gorgeous and vivid programs with various new ideas. Take the program Joyful Little Monks for instance. The male dancers' illustration of little monks being mischievous was very special and outstanding. The fans and handkerchiefs used in some of the other programs were also very special and interesting," Ms. Kim continued.
"Western dances are mainly performed by one dancer, but most dance programs in Shen Yun are performed in a group. Personally, I prefer group dance, as it is more colorful and splendid," she said.
"The seamless coordination of music, images [on the dynamic backdrops] and dance is a kind of consolidated art. The dynamic backdrops are very unique. If one wants to learn consolidated art, they must see Shen Yun, and they will definitely gain something from it."
"It's great to see such a wonderful show. I really thank Shen Yun Performing Arts very much."
March 6, 2012