Shen Yun Reviews: Top Artists Gather at Premier Auckland Performance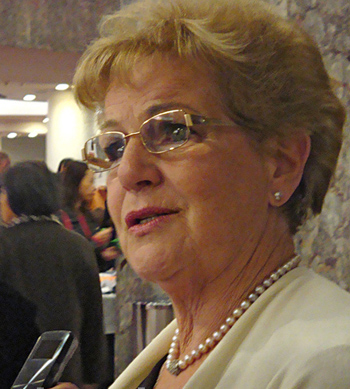 Dame Malvina Major attends Shen Yun
Performing Arts at Auckland's
ASB Theatre.
AUCKLAND, New Zealand—Dame Malvina Major attended Shen Yun Performing Arts' first show in New Zealand at Auckland's ASB Theatre, April 20.
Ms. Major is a world-renowned New Zealander opera singer and teacher. She has won the New Zealand Mobil Song Quest, the Australian Melbourne Sun Aria, and the Kathleen Ferrier Award in London.
"[What] struck me tonight was the composition of the music. It has that wonderful... music we associate with ancient China... in it, but it's in a modern context— it's wonderful, just wonderful," she said.
"Everything was depicted in the music."
"And the other thing is the gracefulness of both the men and the women. And their rhythm. In the bodies of the men, you could see the rhythm... it's just amazing," she said.
"I am absolutely delighted. I will come again if I possibly can. I will see it again," concluded Ms. Major.
Conductor: Shen Yun Orchestra 'Powerful and well played'
Gary Daverne, former director and musical conductor for the Auckland Symphony Orchestra, says this is the fifth consecutive year that he has come to see Shen Yun Performing Arts play in Auckland's ASB Theatre.
"It's very exciting music," said Mr. Daverne, who attended the performance on opening night, April 20.
"Especially in some of the energetic pieces, the war, fighting scenes, the conflict—very powerful and well played."
Daverne has conducted many major orchestras, including the London Royal Philharmonic, the Shanghai Symphony, the Taiwan Symphony and the Czech Republic's Moravian Philharmonic Orchestra. In 1996 for his musical achievements, he was appointed Officer of the New Zealander Order of Merit.
"It's full of color, energy, good music, good dancing, good everything, it's a must [see]," Mr. Daverne concluded.
April 22, 2012