Polský konzul o Shen Yun: Je to pro mě trochu vysvobození v obrovském čase smutku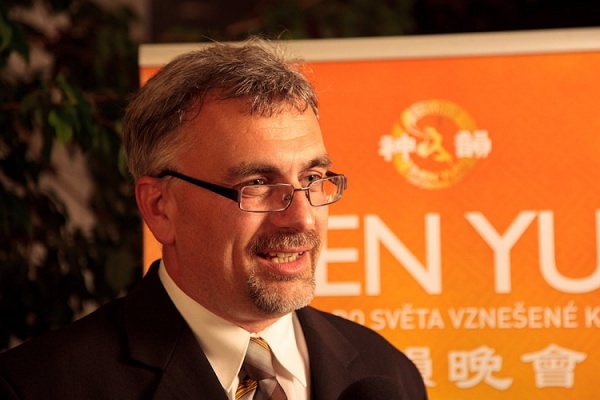 Petr Mrkývka, polský konzul v Brně, vysokoškolský učitel a proděkan právnické fakulty v Brně, navštívil v pondělí 19. dubna první letošní představení souboru Shen Yun Performing Arts v brněnském Janáčkově divadle.
O své dojmy se podělil s reportérkou televize NTDTV: "Víte, ty dojmy jsou obrovské. Teď jsme se o tom bavili, že to není jenom umění, je to obrovské duchovno. A já, jako polský konzul, musím říct jednou věc: Teď jsme vlastně týden prožívali obrovský čas smutku a pro mne je toto takové trochu vysvobození. Zároveň jsem tam viděl ukázky toho, co se třeba děje v Číně, že není všechno tak, jak by mělo být, a je tam spousta utrpení, a zároveň jsem v tom představení taky viděl takovou obrovskou naději, která mi zase dává trošku sílu. A taky jsem pochopil, že uměním se dá léčit, léčit duše, a je to krásné."
Mezi scénami jej zaujal etnický tanec z Vnitřního Mongolska. "Kdysi, strašně dávno, když mi bylo 14 let, jsem byl na táboře v tom druhém, Vnějším Mongolsku, takže když jsem viděl tu step a jurty, tak jsem si říkal, že bych se tam ještě chtěl vrátit. A vezmu to asi přes Čínu - pokud mě tam někdo pustí," uvedl.
A co si pan Mrkývka z představení odnáší? "Jak jsem říkal, obrovský zážitek, takovou tu naději, že prostě když je něco špatně, tak že se to dá napravit. Že nás něco řídí a posunuje nás dopředu. To je jedna věc."
"A druhá věc, co si budu odnášet, že budu sledovat plakáty, kdy se tady zase objeví něco takového pěkného," uzavírá.
April 19, 2010