Tanečníci Shen Yun jsou velmi, velmi dobří, říká Číňanka žijící v ČR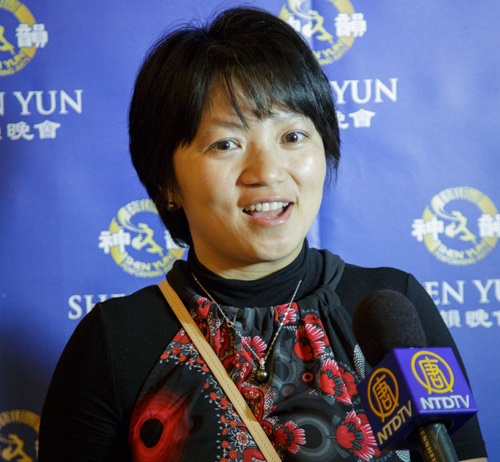 Po pražském představení ve Státní opeře 3. května 2014 sdílela svoje dojmy z představení paní Annie Li, Číňanka žijící v ČR.
"Představení bylo skvělé. Vzhledem k tomu, že jsem Číňanka, tak se mi líbí," říká Annie Li. "Moje dcera dříve tyto tance cvičila, ale od té doby, co jsme se přestěhovali, musela přestat, protože jsme nemohli najít žádné místo, kde by se mohla učit."
Paní Li byla překvapená počtem i kvalitou mužských vystupujících, ale i krásnými kostýmy, které jsou ručně vyšívány s dobovou autenticitou. "Kostýmy byly nádherné, skutečně nádherné. Byla jsem překvapena, že účinkovalo tolik mužských tanečníků. To není zvykem při podobném typu představení, aby bylo tolik mužů, ale bylo to velmi dobré."
Annie Li hodnotí i celosvětovou prezentaci starobylé čínské civilizace jako velice přínosnou, protože při tom dochází ke vzájemnému sbližování kultur.
"Myslím, že to je skvělá věc, protože dochází k výměně hodnot mezi kulturami," říká Li. "Myslím, že čínští tanečnící [z Shen Yun] jsou velmi, velmi dobří. Měli bychom mít takových více. Až v Evropě jsem poprvé měla možnost čínské tanečníky vidět. Ať v tom pokračují."
Nejvíce paní Li zaujala scénka s názvem Neochvějný lotos, která je uměleckou reakcí na události v současné Číně, na bezpráví, které probíhá ze strany komunistického režimu na praktikujících Falun Dafa, kteří žijí podle hodnot pravdivosti, soucitu a snášenlivosti a věnují se meditačním cvičením.
"Co se mě dotklo nejvíce? Myslím, že scénka Neochvějný lotos, kde jsou matka s dcerou, pak "někdo" přijde a ona zemře a nakonec se zjeví Buddhové."
Na otázku, proč se Annie Li líbila právě tato scénka, odpovídá. "Protože ukazovala Buddhu, který přišel ženu zachránit. Proto se to dotýká mého srdce."
Rozhovor i foto poskytla česká pobočka The Epoch Times.
May 18, 2014