SF Arts Commissioner: This Show is Great for the City and Great for California!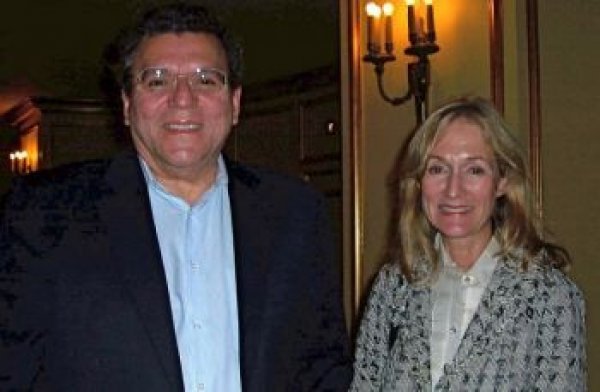 Mr. Luis Cancel and Ms. Jill Manton
SAN FRANCISCO—Mr. Luis Cancel, Director of Cultural Affairs, and Ms. Jill Manton, Director of Programs—both part of San Francisco's Arts Commission—watched the Saturday night Shen Yun Performing Arts show in San Francisco.

"I'm very impressed with the scale of the production—it's just amazing. The skills of the dancers, and it really is fascinating for me to see them performing and singing. It's been great—a great evening so far."

Asked how he feels about the show, as the city's art director, Mr. Cancel replied "I'm learning about—I didn't know that history and myths, for instance, that was a very interesting sort of revelation for me. Seeing some of the different ethnic dances from different regions of China also is a revelation. I think [the show] is great for the city and great for California!
Mr. Cancel has a distinguished 25-year career in the arts and public service. He was the first Latino to lead New York City's Department of Cultural Affairs, and directed the Bronx Museum of Art for 14 years. Most recently, he was executive director of the Clemente Soto Vélez Cultural & Educational Center in New York City where he raised millions of dollars and expanded the center's profile. Mr. Cancel has been a guest lecturer at several prestigious national and international museums and universities including Yale, Harvard, Princeton, and Central University of Caracas.

Ms. Jill Manton, also with the Arts Commission, has been the Program Director for the Public Art Program since 1990. She received the Public Managerial Excellence Award in 1997 from the Mayor's Fiscal Advisory Committee. With over 20 years in the public art field, Jill also serves as an elected member of the national council of the Public Art Network, and serves on the advisory board for the Public Art Review.

Jill shared with us her thoughts about the performance. "It's fantastic—it's very, very beautiful. I'm so impressed with the level of skill and the colors and the costumes and how they are so able to adeptly represent each region through their dance. It's really amazing. I keep thinking it's a different group of dancers every time but it's the same dancers. So it's really wonderful."

July 29, 2010