Shen Yun Reviews: Greek Orthodox Bishop: Shen Yun 'I will advise everybody to come and see it'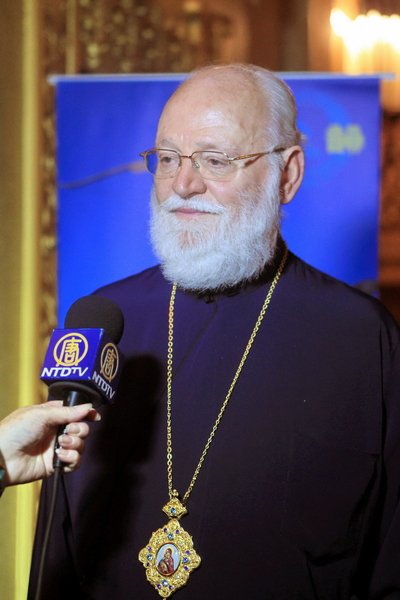 MELBOURNE—On a chilly autumn night, Greek Orthodox Bishop Ezekiel of Dervis, Assistant Bishop to the Archbishop in Melbourne, was in the audience at the Regent Theatre.
Bishop Ezekiel felt connected with the spiritual aspect of the show. He said: "I was very much impressed, first of all, of the actions on the stage, of the colors and, of course, the great message that comes from the whole action is that there is God which is all over the creation, and we have to follow certain ways to get to heaven from earth. And this is the way of truth and of acceptance of each other, and do whatever we can do good on earth."
The Bishop also commented on the dance portraying the Buddhist monks called Little Mischievous Monks, which depicts young Buddhist monks engaging in a little of their own training while the abbot is away. "The discipline I have seen in that particular part which is about the Buddhist monks was very, very good and very nice."
The hi-tech digital backdrops that show picturesque views, lush landscapes and also mystical realms, add another dimension to the show, and for the Bishop, they were a reminder of being respectful of our natural world. "That was another message for today's world because we are not respecting so much the nature and we destroy with our lives and with our actions.
"So all this comes through to us to say we are here and we are here for you. You have to respect us so that we can give you a better life and blessed life," said the Bishop.
The audience gave the performers a standing ovation at the conclusion of the performance, and Bishop Ezekiel could see that the show appealed to all and was relevant to all. He concluded by saying, "I think all these messages impressed very much all the people that are seeing the show, and I will advise everybody to come and see it."
March 4, 2011