Shen Yun Reviews: Shen Yun změnil "my tančíme" na "my jsme tanec"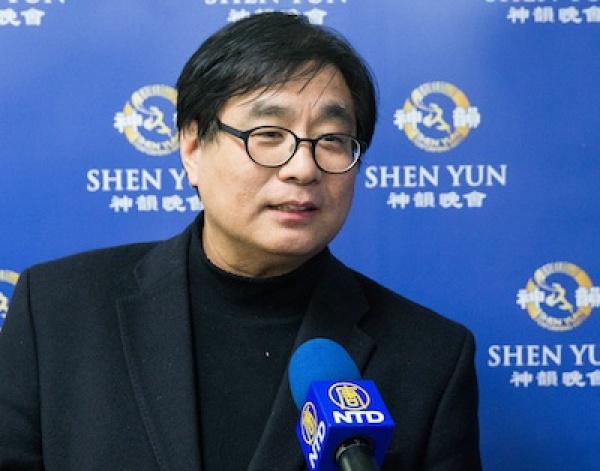 Mezi řadou uměleckých nadšenců, kteří se přišli v Tchaj-peji koncem února podívat na představení uměleckého souboru Shen Yun Performing Arts, byl i ostřílený novinář a kritik Yang Sen-Hong, člen Mezinárodní asociace uměleckých kritiků (AICA).
"Letos je to hodně odlišné," podotkl žurnalista. Má s čím porovnávat, protože představení viděl již mnohokrát. "Od samého začátku představení jsem u účinkujících cítil jinou míru sebedůvěry a vystupování. V minulosti to vypadalo, že tančí jako nositelé, ale tentokrát je sám Shen Yun tancem. Změnilo se to z ´tančíme´ na ´my jsme tanec´."
Tchajwanský novinář svůj postřeh dále vysvětluje: "Když se podívám na ty rané práce z renesance, vidím sebedůvěru umělců – ať už jsou to sochy nebo obrazy, je tam sebedůvěra, která říká: "Nikdo to nedokáže udělat lépe než já." A ta samá sebedůvěra je v Shen Yun. Účinkující nám ukazují, že nikdo neumí tančit lépe než oni. To je to nejlepší představení. Takový je to pocit. Žádná kritika není třeba. Je to jednička. Prezentuje sám sebe. Pokud bude někdy v Číně kulturní renesance, tohle by mohl být její začátek!"
Shen Yun vzdává poctu čínské kultuře
Yang Sen-Hong hovořil o mnoha měřítcích, která AICA k definování umění a měření celkové kvality uměleckých forem používá. "Vidím, že Shen Yun je uměním sám o sobě. Je to kultura. Tohle jen tak lehce nenaleznete," pochválil kritik a promluvil také o obnově čínské kultury.
"Úsilí, které vynaložil Tchaj-wan, nelze porovnat s úsilím, jaké vynaložil Shen Yun, ani nemluvě o zničení čínské kultury Čínskou komunistickou stranou (ČKS). Shen Yun zachoval ryzí hodnoty čínské kultury a dále je pozvedl na úroveň umění. Vytříbili tanec a scénické umění, aby do umění zavedli novou duchovní konotaci. Opravdu vzdává poctu čínské kultuře."
Zkušený žurnalista má za to, že největší problém Čínské lidové republiky je ten, že zaměňuje cenu za hodnotu. "Lidé si pod vedením ČKS myslí, že ČKS je bohatá. Já se ovšem domnívám, že zná peníze, ale ne hodnotu. Shen Yun stojí na opačné straně spektra, to jest Shen Yun stojí na straně hodnot. Těmto hodnotám se nelze přiblížit, bez ohledu na to, jak je celá země jako Čína, bohatá."
Nakonec poznamenal, že ačkoliv tradiční kultura z Číny vymizela, "opravdová čínská kultura žije v zahraničí," čímž narážel na to, že Shen Yun založili čínští umělci, kteří opustili svoji zemi aby mohli svobodně žít a tvořit.
February 22, 2013