Producer of 'Two and a Half Men' Enjoys Humor in Shen Yun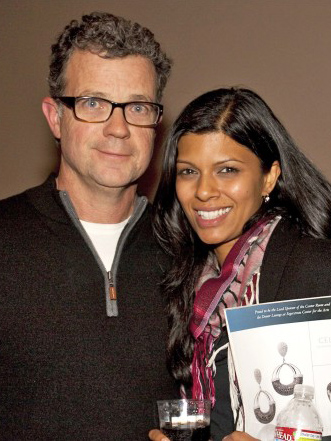 COSTA MESA, California—Mark Burg, executive producer for Two and a Half Men, brought his wife, model Shainaz Donnelly to see Shen Yun Performing Arts New York Company on Jan. 11.
"Great!" he said of the performance, "I don't know how they ever remember all the dance moves."
Mr. Burg, frequently nominated for Emmy Awards, said he particularly enjoyed the young monk's dance [Joyful Little Monks] because "it has a sense of humor to it." Choreographed by Yungchia Chen, the dance depicts apprentice monks eagerly tidying up their temple with brooms, basins and washcloths. They put their hearts into their work, bringing about fun and humorous results.
Speaking at intermission at the Segerstrom Center for the Arts, Mrs. Donelly said, "I enjoy the lady's Sleeves of Silk." The dance uses traditional Chinese "water sleeves," long silk sleeves that linger in the air long after a movement is finished, resembling the effect of fluttering wings or trailing ripples.
January 13, 2012