Cultural Promotion Association President: Shen Yun's Artistic Value Beyond Imagination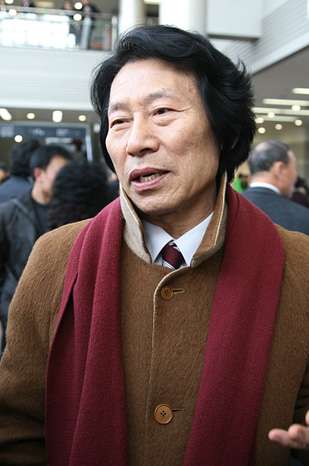 DAEGU, South Korea— "The show seemed to be performed by divine beings… It looked like dances from the divine world. … The singing seemed to be the voice from the divine world (referring to vocalist Hong Ming). If Shen Yun comes back, I will see the show with all my family. I'll tour the country to promote Shen Yun," said Mr. Do Yong Bok, president of the Saratoga Golf Company, and the president of the Busan Cultural Promotion Association.
In order to attend the Shen Yun Performing Arts New York Company's fifth show at the Daegu Suseong Artipia on the evening of Feb. 26, Mr. Do traveled from Seoul to Daegu exclusively, along with his granddaughter who is learning dance.
"My whole body was shaking," Mr. Do said. "I wondered how people could perform to such extent? It was really incredible. It seemed like dancing from the divine world."
He further commented, "Their artistic value was beyond my imagination. I am sure that Shen Yun will definitely move many people in the world.
"It is hard to believe that a dance performance could be so touching. It is really incredible."
Mr. Do Yong Bok particularly noted tenor Hong Ming's solo: "It was a total surprise! Impressive! Suspense! It was a voice from heaven, like directly hearing the voice of gods. [In the audience] I shouted 'excellent' many times. It's a pity he did not sing more songs."
"Mr. Hong Ming, I love you very much!" he exclaimed.
If Shen Yun returns, I will follow them around the country
Mr. Do said, "Because my granddaughter is learning dance, I especially purchased a ticket for her. After seeing the show, she told me she was astounded. I think seeing the show did her a lot of good."
"While watching the dances, I had a wish— if only my granddaughter could join Shen Yun, that would be wonderful," he continued, "If Shen Yun returns, I will bring my entire family to attend. I will travel the country to give talks and promote Shen Yun widely."
Recommend Shen Yun to the World
"The global village is currently embracing the arts, and Shen Yun is indispensable.
"Such artistry as displayed in Shen Yun should be recommended to the whole world," said Mr. Do, " I hope Shen Yun's performances will serve to remind our people to upgrade cultural performances in Korea. Korea definitely needs more traditional culture."
About the Chinese regime's interference with the performance, Mr. Do expressed: "I can in no way understanding the Chinese Embassy's attempt to obstruct Shen Yun. This type of intervention of cultural activities is inappropriate in the global village era."
February 27, 2012