Shen Yun Reviews: National Dance Competition Triple Crown Winner: Shen Yun 'Indeed Magnificent!'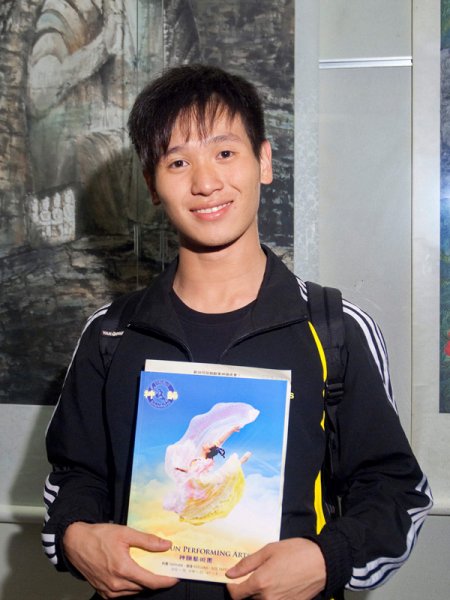 TAIPEI, Taiwan – Li Weihao, Triple Crown Winner of the Taiwan National Dance Competition, took the last opportunity to see Shen Yun's performance in Taiwan on April 21. He said, "Shen Yun is so wonderful. I attend the show every year, and I find that it has all new programs each year. With perfect synchronization of dance and multimedia, and choreography, the show is indeed magnificent.
"The dancers' skills were excellent, as many of them are award winners in competitions and prominent dancers," he said. Li Weihao is currently a senior studying performing arts at Jhuangjing Vocational High School, and winner of several dance competitions.
Li said, "As a dancer myself, I was overwhelmed by the performance. From Shen Yun's performance, I know that I will need to work harder!"
Li Weihao began studying dance when he was a third-grader in junior high. In the Taiwan National Dance Competitions, he won first place in classic dance, contemporary dance, and folk dance. He has also been awarded Best Dancer for the past three years.
Li Weihao said that he was deeply moved by the gracefulness and elegance of the dance "Ladies of the Tang Palace." Also because he often performs Mongolian dances, he especially enjoyed the heroic spirit and the wild beauty depicted by "Herding on the Grasslands."
He said, "From the dances to the body movements, I enjoyed it all. I just don't know how to describe it—a kind of inner beauty."
Li Weihao commented on the harmonization of the dance and live orchestra, "The dancers' movements and the music must be coordinated exactly, and the multimedia must be played at the exact time without any mistakes. These are the most difficult parts. Therefore, I say they are really wonderful."
April 22, 2011