Shen Yun Reviews: Sinai-Sino Star
ISRAEL'S LEESHAI LEMISH HOSTS A CHINESE EVENT AT THE ACADEMY; WILL KOBE BRYANT SHOW UP?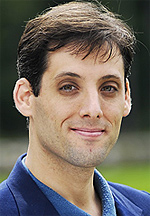 Leeshai Lemish
Is celebrating the New Year old (party) hat for Leeshai Lemish?
Chinese New Year? Firecracker fun, acknowledges Lemish.
A special rush in honoring Rosh Hashanah/Yom Kippur? Absolutely!
But don't put away the dragon drama or ram's horn just yet; now it's time for the American version.
Just who knew Lemish's auld lang signs would be printed in Chinese, Hebrew and English?
Holder of dual passports -- U.S. and Israel -- the Ohio-born, Israeli-raised, Chinese-educated Lemish lends a special aura to this weekend's Shen Yun Performing Arts celebration at the Academy of Music (www.academyofmusic.org), which he is hosting as it kicks off its new year world tour of classical Chinese dance and music here on Jan. 2 and 3.
What is life all about when it's a choice among Column A, column B and column C? Have an egg roll -- and maybe a blintz -- Mr. Goldstone!
The son of an Israeli mom and American dad, he and his professorial parents moved to Israel when Leeshai was 5, returning years later, leaving the Lower Galilee for enrollment at Lower Merion High School on the Main Line when his mother took a sabbatical to teach at the University of Pennsylvania.
What his time here taught Leeshai is that language and cultures are one major mah-jongg game tiled in common hopes and aspirations.
And that, he explains, is exactly the message of the Chinese arts celebration coming to the Academy of Music this weekend.
There was a time, however, when the now 31-year-old Lemish delivered his messages on the whoosh and seams of a fastball, as a star pitcher on Israel's national baseball team.
Strike three was a back injury following service in the Israel army that precluded him from fulfilling what had been an age-old dream -- "being the first Israeli to become a professional sports star in America."
Some of life's curve balls still manage to nick home plate even if they don't come right down the middle: Lemish soon changed his field of dreams to Asian culture, studying its language and legacy while a student at California's Pomona College from 2001 to 2005.
"As I had worked on my pitching, I well understood that baseball is 90 percent mental," he says, a brain game that led him to other mental missions. "I just at that point became more interested in meditation, tai chi -- yoga, a lot of arts which came from China.
"And I became fascinated with Chinese philosophy."
The Sinai-Sino student also sensed the similarities between Jewish and Asian cultures. With "the caveat that all stereotypes are limiting," he saw how similar are the jagged edges Jews and Chinese have had to face in life as well as their more refined repositories of accomplishment and drives.
Similar Histories
Chinese friends are fascinated "by the [shared] similarities on the emphasis on education, that both are 'good at making money,' having respect for family values and a long history" of evolution and persecution.
"A Chinese professor of mine told me that the Chinese flatter us [Jews] because in a way, they're flattering themselves; it's a self-compliment," laughs Lemish.
"It's like saying, 'You're great -- just like us.' "
Justice, too, is a shared dream. "We both have had to deal with persecution."
While not equating the Holocaust with the Chinese heritage of enduring ethnic-cleansing and intimidation, "the Chinese have seen a lot of their traditions wiped out."
And while he acknowledges that the Holocaust is history's most heinous example of morality unhinged, Lemish does see certain atrocities these days in China that bespeak the spectacular loss of reason among Chinese officials.
He knows of what he speaks when discussing followers of Falun Gong, a form of meditation and quasi-religion that has faced a crackdown in China.
Lemish has faced it himself; he was imprisoned overnight in China for taking part in an international protest at Beijing's Tiananmen Square, circled by police as the Jewish protester was jostled and had his jaw damaged during the confrontation, before being hauled off to jail, admonished not to return to China.
"That ban was for five years," which has since expired, he says of the 2001 run-in. "I haven't tested it yet."
But he may soon. There is talk that the the Shen Yun Performing Arts -- in which his hosting role is as explicator ("I can neither sing, nor dance; I'm more of a cultural ambassador") -- may be coming to China. And then it may also be going to Israel, which Lemish especially covets.
But, now, he's coming back to Philadelphia. Any expectation that some former Lower Merion high school classmates may be attending the festival for some hoopla?
"Well, Kobe Bryant was in my graduating class," says the baseball star of the basketball sensation.
"But then I didn't know him when I was at Lower Merion."
What Lemish does know is that he'll be driving to Philly from his home in Manhattan, with the soundtrack of his special history providing a welcome in three beloved languages:
Xin Nian Yu Kuai!
Shana Tova!
Happy New Year, Leeshai Lemish!
December 31, 2009