Famous Dancer and Choreographer: Amazed by the Devotion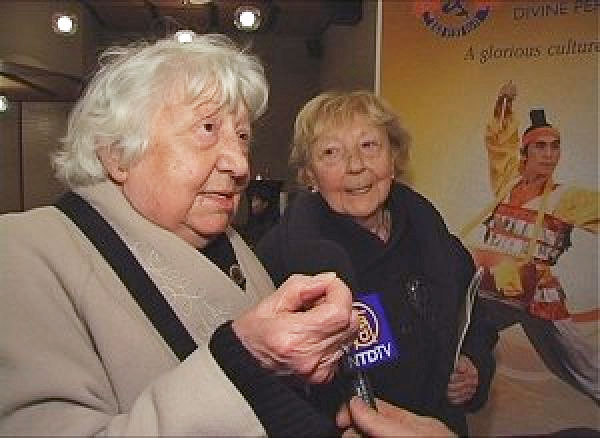 Jeanne Brabants and Jos Brabants
ANTWERP, Belgium—The New York-based Shen Yun Performing Arts (DPA) afternoon show on Feb. 25 at downtown Antwerp's popular Stadsschouwburg, was well attended.

The foreign-born Chinese performers are traveling around the globe aspiring to revive China's traditional culture that has been eroded during communist rule.

The various programs in the show depict stories and legends from China's 5,000-year-old history, and the show brings to the audience an orchestra that is composed of both Western and Chinese musical instruments which creates a unique and beautiful sound. Currently, it is the world's only orchestra that uses this combination.

Jeanne Brabants, retired founder of the Royal Ballet of Flanders, dancer, and choreographer, and her sister, Jos Brabants, retired director of the Royal Ballet of Flanders, wanted to hear the unique tone of the orchestra and see dancing that opens their eyes to the true Chinese culture.

"It was a wonderful performance. They dance with much more [eloquence]. What is fantastic about this group is that there are so many men dancing. In our country the male dancer, not in Spain and not in Hungary, but in France and Germany, we have a difficult time bringing male dancers into our companies. And, [in this show] they dance so extraordinarily well, these men. Ours can't be compared to these male dancers," explained Jeanne.

Jos was also impressed and said, "And they also have a lot of discipline."

These professional artists were impressed with what they saw, and Jeanne said, "Beautiful, beautiful. And the materials, and just as my sister said, the discipline is very good," with Jos adding, "Unbelievable!"

Jeanne changed back to the original topic and said, "What made the most impression on me personally was the Tibetan folk dance. And that was also with men ... they all have power. Unbelievable, the women have a very flexible back, they all are very limber in their shoulders. The women get it naturally, because every move is very smooth. But you cannot compare male dancers with women dancers.
"But without a doubt, it is an incredible achievement. And their effort and discipline! And their belief! They believe in what they are doing.
"They are on the way towards a very bright future, because the dances are based on authentic material.

"I think influences from everywhere should come," said Jeanne. Ms. Brabants then said, "I also think it is the other way. ... Their tradition is much stronger than ours, because ours has been lost." Then Jeanne continued her thought, "You have material, and the material is 'pico bello' [splendid, outstanding], and also the costumes—they sometimes use colors we would not use."

For a Western dancer it is difficult to compare or understand the techniques used by the DPA dancers.

Jeanne said, "I wondered in what way do they count. How do they count the measures? And how can they all be so in sync with the music that ... we dance 1,2,4,4, ... if one dances Baroque of Stravinsky then you would not try to count because it goes from one measure to another.
"It was a big question for me, the marriage, the wedding between the music and the dance ... It was right. And [the] way they reacted to it, and for them it was normal. If they put us there, then we are really in China, and then we don't understand."

The show was awesome in Jos' eyes, and she said, "What can I say? I have been so overwhelmed. By the incredible discipline they have. ... Unbelievable, anyway thumbs up."

Before leaving, Jos said, "The men were also fantastic!" and Mr. Brabants shared, "This is your performance, and we have looked at it with wide eyes. I was quite amazed by it, mainly by the devotion of these young people. ... Yes it is wonderful, I was very happy."
March 20, 2010