Shen Yun Reviews: Shen Yun Heralds the Beginning of a New Era
CONTENT PROVIDED BY THE EPOCH TIMES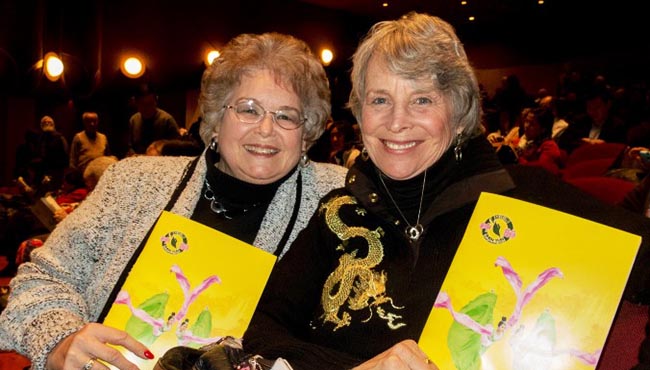 SAN JOSE, Calif.—Few experiences in life can claim to touch the very core of one's being. For sisters Lynn Pentz and Rene Besold, Shen Yun did just that.
"It speaks to the highest in us. Here is the heart and the soul being uplifted in the art. It's exquisite. Just a magnificent piece of art," said Ms. Pentz, wearing a regal black coat ornately detailed with a golden Chinese dragon.
Ms. Pentz, who called the performance "deeply inspiring," finally secured the ticket as a Christmas gift from her sister Rene, after wanting to see Shen Yun for years.
"Shen Yun is a beautiful transformational experience," she said. "It's a cross-cultural journey into not only Chinese history and spiritual tradition, but it's also an opportunity to just take a deep breath and have your soul fed by the highest form of art … also just the uplifting of the music and the beauty of the dance and the costumes, and the moving imagery in the background."
This is no small praise from an event producer who was behind such globally recognized events as Hands Across America and Live Aid.
Rene Besold, Ms. Pentz's equally vibrant sister and a former director of human resources and training, echoed the sentiment.
"With the sights and the sounds, and the texture and the color, that incredible orchestra, and the movement, the flow of the dancing, and the precision of everything—you did not see that on a flat screen, you felt it," Ms. Besold said. "It went into your heart, into your soul."
"It was deep and profound. It is really a remarkable experience. It's an experience, it's not a show. I have to say, that's probably the finest overall performance in its totality that I've ever seen, bar none", she said.
'These dimensions are real'
To Lynn Pentz, the divine worlds depicted in Shen Yun are not just the stuff of imagination.
"For me it's real," she said. "It's a fascinating thing, and quite honestly, I think that the grace of the divine can take whatever form you recognize."
As a person with a keen sense of spirituality, and blessed with experiences beyond the norm, Ms. Pentz's take on the heavenly realms depicted on stage may be different from some of her fellow theatergoers.
"For those whose third eye is open," she said, "these dimensions are real, depicted in actual physical reality. This is not just some myth. This is not some theatrical experience."
Many cultures believe in the ability to see beyond the physical world.
"It gives people an opportunity to see the dimensions of heaven, not just as a symbolic representation, which most people would think, but it's literally what people experience with an open third eye and an open heart and a connection with the soul," Ms. Pentz said.
"This is a real representation of what real power is … as you develop your life force, you purify and you embody virtues, and real power comes to you. Both in terms of consciousness and in terms of grace, and in terms of your ability to impact the physical world. Hopefully, to uplift it," she said.
January 8, 2016