Honorárny konzul Litvy: Do svého života by si chtěl odnést pravdivost, soucit, snášenlivost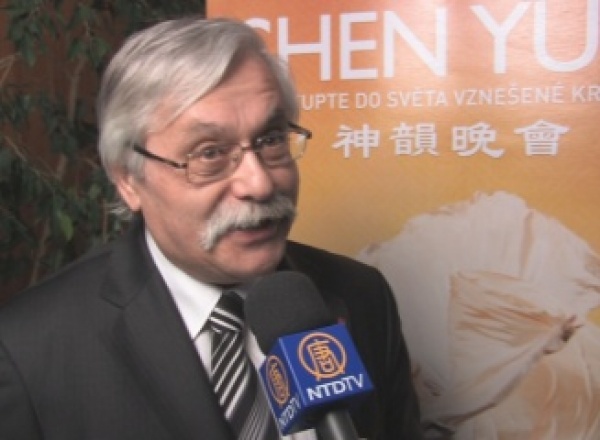 Premiéra predstavenia Shen Yun (2010) zožala v Brne veľký úspech. Diváci ocenili umelcov hlasným aplauzom, vďaka čomu sa opona otvorila neuveriteľných päťkrát.
Ing. Petr Sláčala, konzul Litvy, navštívil predstavenie so svojou manželkou. Päťtisíc ročná čínska kultúra ho zaujíma: "Jsem rád, že tady mohu takhle v zkratce vidět všechny ty tance, jednotlivé epochy a jak přivedli Bohové kulturu do Číny. Protože jsem byznysmen, neustále přemýšlím o tom, zda na prvním míste je morálka nebo obrovský byznys a tady mě to přesvědčuje, že na prvním míste je morálka a ten byznys potom přijde."
Pán Sláčala si na predstavení všimol aj kontrast, z ktorého pochopil odkaz súboru Shen Yun divákom: "(Poselství) vidím v kontrastu, který tam byl pro vyznavače Falun Dafa, protože já jsem si myslel, že kulturní revoluce je již trochu za námi. Byl jsem překvapen, že vlastně posledních deset let to expanduje."
Tento kontrast nebol pre pána Sláčalu jediným prekvapením: "Když jsem si přečetl v programu, kolik je lidských vlastností, které nám Bohové v Číne sveřili, tak já jsem si z toho vybral, že nejdůležitejší je pravdivost, potom ten soucit a potom ta snášenlivost, takže toto bych si chtěl odnést i do svého života, nevím, jestli se mi to podaří, ale chtěl bych."
April 17, 2010