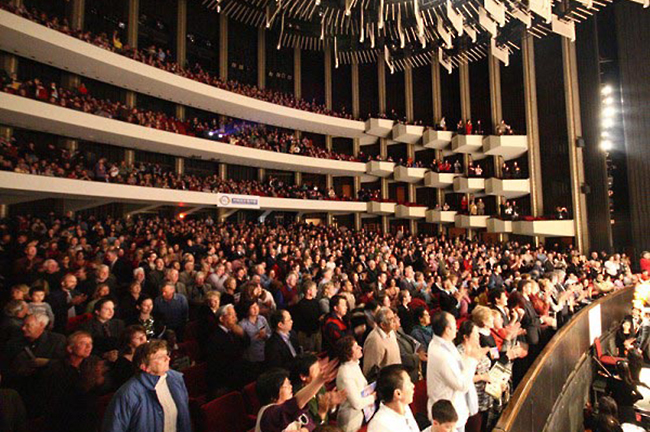 Global Sensation: First Reviews of All-New Production
SPORTS FIGURES, TV CELEBRITIES, ELECTED OFFICIALS, DOCTORS, ARTISTS… RAVE ABOUT SHEN YUN
Over the first month of tour, audience members across North America were the first to see Shen Yun 2014. Here's what they have to say about this year's brand-new performance:
Canada
"It's the essence of beauty." —Yves Alavo, award-winning poet
"This is the best show I've seen … It's wonderful, it's grandiose, unparalleled discipline—I could go on until tomorrow." —Fernand Barrier, baritone
"It heals the soul for sure. The show is nourishing, so for the people who really need to change their routine, it's a show to see to be nourished, it's a nice gift to give oneself." —Sylvie Couture, physiotherapist
"The dancers are incredible, so talented, so agile, very strong ... I like to sometimes watch one individual dancer, but also the magic that happens with everybody together. It's just amazing ... Thank you so much." —Nadja David, actress and model
"It's something that you see few times in your life, a show of that kind of perfection." —Gilles Deguire, Mayor of Montreal North
"Wonderful to see with the whole family. It's like travelling from dynasty to dynasty, from one Chinese region to another." —Bernard Drainville, Quebec National Assembly Member and a former Radio-Canada journalist and television host
"I've never seen anything of this caliber." —Erika Ferrarin, interior designer
"The Shen Yun orchestra's performance was absolutely miraculous. The precision that the musicians demonstrated was unbelievable." —Daniel Forest, management consultant
"Shen Yun isn't just a beautiful performance—it is a chance for people around the world to experience the essence of Chinese civilization. Shen Yun is a flawless presentation of the inner beauty of Chinese culture." —Wenzhuo Hou, Ottawa-based Chinese scholar
"One of the most uplifting shows that one can see anywhere." —David Kilgour, Former Canadian Secretary of State
"The costumes are absolutely stunning ...The way the lighting is reflecting off the whites and the yellows—it's very brilliant."—Nicholas Komarnycky, Director of Engineering, 3-D IMAX
"When the dancers dance or walk, it's as though they are floating—they don't move, they float." —Guy Lacroix, Former mayor of Gatineau, Québec
"I would not have needed to eat, I would not have needed to drink … I would have watched it until tomorrow morning! ... It's so beautiful, it's like a paradise!" —Roger Larouche, Canadian Forces veteran
"The athleticism and artistic ability of the performers is top-notch." —Mathieu Ravignat, Canadian Member of Parliament
"You feel like the gods are coming down right to you in the audience ... I didn't expect it to be so elaborate ... There are parts that are touching, there are parts that are funny and comical. So there's something for everyone." —Christine Ribic, transplant surgeon, McMaster University Department of Medicine
"I have never seen something so colorful, so alive … It was just unbelievable. I am completely blown away … I will definitely come back over and over again … I came here with my daughter and she is like, 'Mom, this is the best show ever.' … You cannot explain it, you have to experience it ... It was so inspiring … It just takes you over—the dance, the music, the vibe of the whole theater ... Everyone out there: you have to come see this show! You will go away feeling elevated." —Shannon Rose, TV Hostess, Canada's Rogers TV
"I am amazed at the amount of detail that is put into the show and the history that is represented ... a very, very high-end performance." —Bill Sioulas, Real Estate Executive, Skyline Commercial Management
"One of the best tenors I ever heard in my life. He has a truly exceptional voice." —Kat Taylor, singer
"What I saw coming clear tonight was really a display of the virtues—beauty and grace, and nobility and heroism, and faith, love, and hope … These performances distill art and ideals that people have developed and acquired over thousands of years … Shen Yun brings to us the hope that we can achieve that kind of enlightenment and purity ... You can immerse yourself in the mythic culture of times gone by and just enjoy being transported to those ages." —Stephen Woodworth, Canadian Member of Parliament
United States
"The show was magnificent… A delight to watch." —Art Agnos, former mayor of San Francisco
"It was very inspiring ... Fantastic. You must see Shen Yun!" —Eddie Bell, former NFL Wide Receiver
"I got entranced in it." —Janean Bowen, EA games producer
"This has just been a cultural revelation." —Buccoli, Education Administrator of South African Independent School Association
"Absolutely exhilarating … Transported me into the cultures of millennia ago ... It gave me a newness of life, just renewed me, and made me feel really, really good ... I look forward to seeing it again, and my friends should as well." —Jonas Garcia, Cardiologist at Methodist Hospital
"A beautiful start for the new year … I think this is going to give us a lot of energy and happiness." —Alejandro Klurfan, Senior Project Manager, AT&T
"The music is very serene. It's just relaxing to me to sit and listen to it." —Ann Koonsman, Fort Worth Symphony Orchestra President emerita
"The talent on stage is just phenomenal … We will definitely be back." —Matt Landry, President of Western Mortgage Corporation
"I love every minute of it." —Hugh Lantz, Managing Director, Wells Fargo
"The precision of the movement is so captivating." —Tiffany Nirider, Dance Instructor at Lone Star College
"It was really breathtaking." —Kristen Palmer, actress, The Wingmen
"We are absolutely in love with Shen Yun ... This is going to become a family tradition to come see it every year." —Juan Carlos Perez, Hewlett Packard executive
"One of the best performances that Memphis has ever seen." —Mary Roudnev, ballerina, dance studio owner
"The athleticism and artistry of the performance was just overwhelming." —Bucky Waters, ESPN, former Duke basketball head coach
Audience quotes courtesy of Shen Yun's media partner The Epoch Times.