A Journey of Enrichment and Discovery - Interview with Shen Yun Trombonist Alistair Crawford
BY NEW LAND MAGAZINE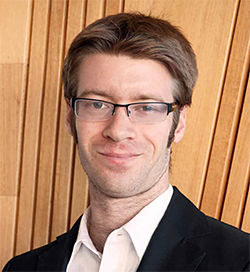 As a promising young musician, Alistair Crawford has always been looking for opportunities to pursue his passion for music, be it to refine his trombone playing technique or to enhance his experience. By the age of 23, he had attained solid orchestral experience in Australia, and with this he stood a good chance to join a reputable Symphony orchestra. Just at that time, a stroke of fate opened the door to a whole new world for him. Being curious and open minded by nature, Alistair Crawford took the biggest step in his life by joining Shen Yun Performing Arts based in New York. To him, it was an adventure. "I had always wanted to get out and see more of the world and this seemed like as good an opportunity as any. I had never heard of Shen Yun before and neither had I had any experience with Chinese culture so that made it all the more intriguing...!"
The last three years witnessed a most rewarding and meaningful journey for the young musician who has not only broadened his musical horizons but also defined new purposes in his life. "The more I get into it, the more I sense the depth of the culture and the more I feel I can relate to it. I am very fortunate to be doing something I enjoy that is also very meaningful."
In February this year, Alistair Crawford returned to his home country as a member of the Shen Yun Performing Arts New York Company for its ninth annual Asian Pacific Tour. It was his second time coming back to Australia with Shen Yun but his first time performing with Shen Yun was where he grew up in Melbourne.
Despite the busy schedule of artists, New Land managed to track down the Australian born trombonist - to share his journey with Shen Yun and the traditional Chinese culture.
New Land: How did you begin as a musician and what was your career plan before joining Shen Yun?
Alistair Crawford: I began playing the trombone when I was nine years old. After a while, the more I got into it, the more I enjoyed playing music so I decided to do further studies in music after finishing at school. At this point I became clearer on what direction I'd be heading in so I then became more focused on music and strived to refine my playing and keep improving.
I was fortunate to have good training and a lot of good orchestral experience in Australia during my years studying there and I felt that this really gave me a very good foundation. If I were to pick a highlight from that time I'd say one good one would be playing principal trombone for Mahler's third symphony with Australian International Symphony Orchestra Institute down in Tasmania. This symphony is quite a favorite for trombonists!
New Land: What motivated you to join Shen Yun?
Alistair Crawford: It happened by chance but quite naturally. Three years ago when I was doing further studies in Melbourne, I heard that Shen Yun was seeking musicians and went to do an audition. As a young, aspiring musician I was on the lookout for new opportunities and I was fortunate enough to be offered a position upon auditioning!
It seemed to me like an interesting opportunity but at that time I hadn't heard about Shen Yun or Falun Dafa. I decided to talk to some of my colleagues and was encouraged to go for it.
Three months later, I came over to the United States for the first time. It was a big adventure for me!
New Land: What was your largest challenge in the early days at Shen Yun? What did you think of the Shen Yun music?
Alistair Crawford: I was new to the Chinese traditional culture and music when I first joined Shen Yun so in this sense it was even more fascinating in that it was like plunging into something completely foreign and not knowing entirely what to expect!
The challenge mainly lies in getting used to new things, including the new environment, the new lifestyle and really entering the door of cultivation. As for the music itself, it is not the hardest part. Even though the style is different from what I had done before, it is interesting but not overly difficult to play for the most part.
What I observed immediately is that the music of Shen Yun is very unique and creative yet very traditional in terms of both the culture and the technique. It is music that expresses the nature of the traditional Chinese culture whilst being done in a traditional western compositional style.
I have found that some of the modern compositions that are seen nowadays tend to lack structure, form and direction when compared to the earlier classics. By contrast, the Shen Yun music still follows the more conventional ways of composition that were used in the past. At the same time it also personifies the characteristics of the Chinese culture. Additionally, there is a degree of cultural depth to the music which embodies the character of the traditional culture. It may not be so clear initially but I have found that after continuing further along the path of cultivation, this cultural depth can be seen more clearly.
The Shen Yun music also has a nice sense of variety. Each piece of music is original and beautiful in its own way, as they each have their own purposes as well as having different styles representing different cultural aspects and different dynasties. As a performer, you get to experience the full spectrum with some dynamic and energetic programs contrasted with some gentle and peaceful ones.
New Land: You mentioned cultural depth to Shen Yun music which is exactly the soul of the music. As a westerner, how did you manage to overcome the cultural gap?
Alistair Crawford: By being open minded and having a sense of curiosity. There are many ways to learn but first-hand experience is particularly helpful, like talking to people and hearing about their stories and experiences.
The environment also makes big difference. I would say that by being in such an environment with so many people to talk to and share with really makes for an accelerated process of understanding.
In a deeper sense, my getting into traditional Chinese culture is intertwined with my path of cultivation, which has broadened my view on things and enriched my life substantially. I would say that when you can really let go of attachments in your heart, you will feel lighter and as though you are free of things that you weren't able to let go of before. This is the only way to attain real satisfaction in life. It is challenging along the way but it is indeed a rewarding journey!
The way I see it, this process of letting go of things and refining ourselves is what cultivation is all about.
As one goes through life they will no doubt set numerous goals for themselves, yet once you achieve one or two of them, you would then look for something else. With cultivation though, this is something that you can keep going with until the end.
In this way, one's life will always be meaningful and have a clear direction upon entering the door of cultivation.
New Land: What is your typical day like in Shen Yun?
Alistair Crawford: When we're not on tour we're busy preparing all of the programs to get everything ready for the upcoming touring season. In the mornings I'll often practice on my own and teach the trombone students. When I'm not doing these things I might be enjoying a bit of time to myself or taking a leisurely walk around!
On tour it can vary quite a bit depending on the schedule and the circumstances but in general we spend most of our time at the theatre, at the hotel or on the bus. Sometimes we get some down time though and enjoy some sightseeing or simply relax at the beach for a while depending on where we are.
New Land: Let's talk about the Shen Yun Symphony Orchestra. Following the successful debut in Carnegie Hall in 2012 , it has so far made 2 tours around North America on its own. Can you tell us a bit about this?
Alistair Crawford: The Shen Yun Symphony Orchestra is great because it adds another dimension to the company as a whole and provides a good opportunity for another form of expressing ourselves artistically. It is nice in the sense that we find ourselves as the focal point in this setting. As a result of the addition of the symphony orchestra we get to experience both roles throughout the year as we play the accompanying role for the Shen Yun show. Therefore this provides a nice sense of variety.
I remember hearing that in the early days of Shen Yun there were some people who were particularly captivated by the music and hoped to see the music as a feature sometime in the future. For this to be happening now is really good and it provides the audience with yet another viewpoint to explore the culture.
New Land: How is the Shen Yun Symphony Orchestra different from those you have played with in the past?
Alistair Crawford: For me, the Shen Yun Symphony Orchestra is unique in many ways. Firstly, it represents such a deep and broad culture. Secondly, I believe that the path we are taking is paving the way for the future. To put in another way, it is setting the tone for the future.
Reviving the traditional Chinese culture that is lost in China is something of great significance to the world. Because Chinese culture goes back so far that at some point in the world's history everyone came from that culture, so many people with diverse ethnic and cultural backgrounds have found their connection with Shen Yun. Therefore, it is relevant to us all.
Thirdly, the energy you feel when you play is something really quite rousing. To have everyone working together on stage sharing an enthusiasm to play music with such cultural depth to it is something that can really produce a great effect!
New Land: What are your most unforgettable moments in Shen Yun?
Alistair Crawford: To tour around the world and perform in some of the great venues around the world is in and of itself something to really cherish but when you see the reaction of the audience, it is really something special!
I recall one year where we played four encores for each concert on the symphony tour and every one of them received a standing ovation afterwards! At this point you feel that all the effort is worth it! To know that you are bringing happiness to people of so many different ethnicities and different strata in society is indeed something to really treasure!