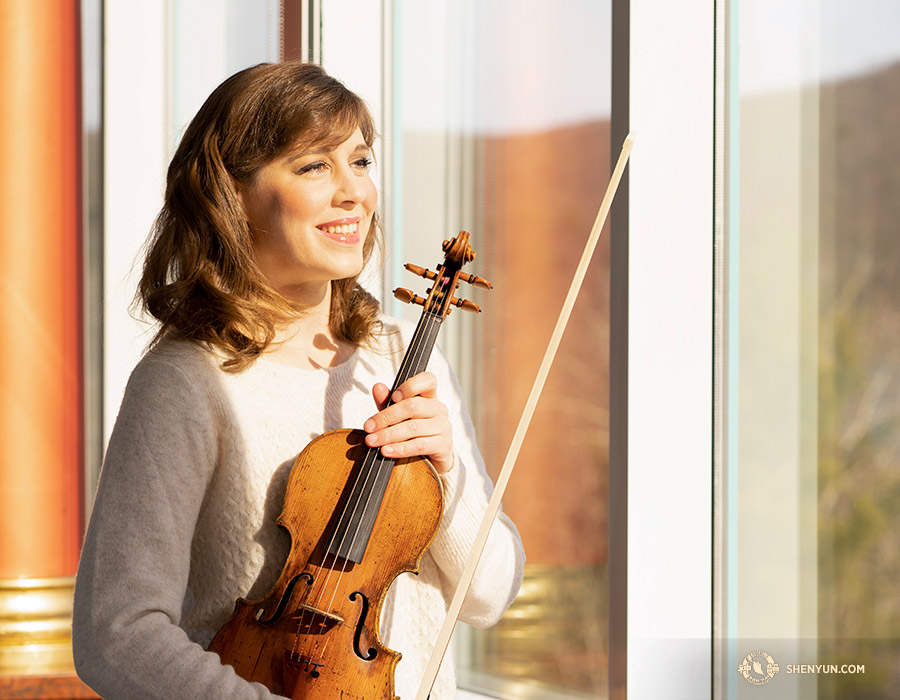 Up Close With SYSO Concertmaster Astrid Martig
Since being appointed Shen Yun Orchestra concertmaster in 2012, Astrid Martig has given hundreds of performances worldwide. She has appeared at Carnegie Hall in New York, Kennedy Center in Washington, Four Seasons in Toronto, Festival Hall Baden-Baden, Burgtheatre Vienna, Tokyo Opera City Concert Hall, and many other celebrated venues. Over one million audience members have experienced her great musicality and astounding command of the violin.
Born in Germany, Ms. Martig studied with one of Europe's finest violin soloists and pedagogues, Stefan Czermak, himself a student of the legendary Russian violinist Leonid Kogan. She then went on to study at Germany's Leopold Mozart Music Conservatory in Augsburg, the Hanover University of Music, and the Nuremberg University of Music. In Nuremberg, she studied with Daniel Gaede, former concertmaster of the Vienna Philharmonic Orchestra. She has won multiple national awards and first-place prizes and performed at international music festivals across Europe. Before joining Shen Yun in New York, she was a member of Kiel Opera Orchestra, Hamburg Symphony Orchestra, and the North German Radio Philharmonic Orchestra.
Shen Yun MC Leeshai Lemish had a rare opportunity to sit down with Ms. Martig right after her performance at Carnegie Hall with Shen Yun Symphony Orchestra in the fall of 2019.
LL: Thank you for agreeing to this interview. First, congratulations on your performance this afternoon! It was rich with colorful sounds and a range of styles. I especially enjoyed the piece about Emperor Kangxi—very majestic. The audience response was terrific and you played several encores. What's it like to be on stage at Carnegie Hall as the concertmaster for Shen Yun Symphony Orchestra?
AM: It is very special, and a privilege, to be able to return to Carnegie Hall every year since Shen Yun's debut there in 2012. It is a wonderful experience to perform the great classical pieces as well as Shen Yun's original music with the outstanding musicians of the Shen Yun Symphony Orchestra on this historic stage. Many of the world's greatest soloists, orchestras, and conductors have performed here over the last hundred years and it is an honor to continue this tradition of excellence with the Shen Yun Symphony Orchestra. I really enjoy performing here.
LL: Let's go back in time even further. How did you start playing the violin?
AM: When I was 3 years old I started learning ballet and, because I listened to classical music a lot, especially ballet music, like Tchaikovsky's ballets, my parents took me to a symphony concert. And there, a violin concerto was being performed. We sat close to the stage, and as the soloist started playing I stood up and walked toward him. By the time he had finished, I was standing right in front of him. I pointed at the violin and said that I also wanted to play the violin when I am old enough.
And so the next Christmas I got a violin, and from that point on I loved playing violin all day long. Later on, I was very fortunate to meet a special person and musician who would become my teacher and mentor, Mr. Stefan Czermak. At that time he was the concertmaster of the Hamburg Symphony Orchestra. He taught me violin technique and musicianship in the tradition of the great Russian violin virtuosos. He taught me his insights into orchestral playing from decades of personal experience, the challenges of being the concertmaster of a symphony orchestra, and most importantly, the incredible potential, beauty, and meaning of all the great classical masterpieces.
LL: You've been working with conductor Milen Nachev since the inception of Shen Yun Symphony Orchestra. What's it like to work with him in preparing for the annual symphony tour?
AM: Having worked with Maestro Nachev for eight years now and performed so many concerts all over the world with him, our rehearsals are very harmonious and efficient. We can do detail-oriented work on phrasings, articulations, dynamics, colors, instrument balances, and stylistic nuances, which is also very important because we perform original pieces exclusively written for Shen Yun every year. Mr. Nachev has very sophisticated musical concepts and a fine sense for how to bring out the best of both the Chinese and Western musical traditions. His presence on the podium demands of the orchestra the highest level of professionalism and artistic refinement.
LL: This season, you also performed for the first time with conductor Dimitry Russu.
AM: Yes, Dimitry Russu is a very expressive conductor. Although he has been with Shen Yun for only a short time, we have already built excellent chemistry and, because of his dedication and extensive expertise, working with him is a very positive experience.
LL: How would you describe what is unique about the Shen Yun Orchestra?
AM: Although the Shen Yun Orchestra is based on a Western orchestra, a very distinct sound is created by adding traditional Chinese instruments, like the erhu, pipa, and percussion instruments like the qing. We are not only combining instruments from the East and West, but also utilizing them in a way that the fine tonal quality of the Chinese instruments is supported by the orchestra, while the western instruments keep their own traditional sound and stylistic concepts.
This new combination of classical instruments and traditional styles results in a unique orchestral sound that can't be experienced anywhere else in the world. It's really a breakthrough in classical music and a fantastic achievement. It's very refreshing for the audience, while still sounding familiar because of the classical elements in the orchestration.
LL: What does the name Shen Yun mean to you?
AM: Beauty, classical artistry, traditional virtues. Upholding traditional values is very important to me, and Shen Yun is doing that. Ever since Shen Yun was established in 2006 in New York, the company has given thousands of performances worldwide. But all the way to today, the government of China has refused to allow Shen Yun to perform there; this despite the fact that we are displaying China's cultural heritage and bringing the legends and values of its 5,000-year-old civilization to theaters around the world.
The Chinese communist regime has been lying about the history of China and has been suppressing China's own traditions and beliefs. Now Shen Yun is displaying the real cultural heritage, which includes principles and heroic legends that for thousands of years gave people spiritual strength and moral guidelines in their lives. Shen Yun also depicts the suppression many people in China face today living under dictatorship.
So the CCP (Chinese Communist Party) has been trying to interfere with our performances, because it doesn't want people to know the truth. But many people already know. Sometimes in the media we see articles meant to slander Shen Yun. We've found that the CCP and Chinese consulates are the ones behind many of these—in one case in Prague, the TV station even showed us the letter they got from the Chinese Embassy. They have also tried cancelling our performances by threatening theater managers here in the United States of economic reprisals if they let Shen Yun perform. They have even damaged the tires of our tour buses. But Shen Yun has always received great support from many countries, including the U.S.
I strongly believe that what Shen Yun represents is very important to people all over the world, especially in today's time, where it is easy to get lost in the chaotic and busy world. Shen Yun lets people experience a completely different world, one that enables them to enjoy something exquisite. But also at the same time it broadens people's perspective about the meaning of life and inspires people to reflect on things, which audiences describe as being a very uplifting experience. To have the opportunity to be part of all of that, I am very grateful.
LL: The Symphony Orchestra has received some incredible reviews the last few years. Why do you think the audience feels so close to the music of Shen Yun?
AM: Music is a universal language that can connect people of all nationalities. Shen Yun is bringing back China's cultural treasures, including legends, moral principles, and belief in heaven and the divine. These important aspects of life were almost lost under communist rule, but our performances portray them in our music and on stage, and people are excited about this. Actually, many audience members say they can feel a connection with heaven during the performance.
LL: Let's talk about your role as concertmaster. What challenges and responsibilities come with this job title?
AM: Generally, the concertmaster is the lead violinist and has many different responsibilities in an orchestra. With Shen Yun having so many performances in a short period of time, this role is very time consuming and requires a great deal of preparation. I have to play the solos and I also need to be able to consider many different technical aspects within the orchestra, like different acoustics, varying stage sizes, which impact the way I show entrances of phrases, section or tempo changes, and so on. I assist the conductor in translating his gestures and ideas to the orchestra, and communicate them to the other string section leaders. I am not just responsible for my violin section—I need to be familiar with the other instrument sections as well, and need to be able to adjust things in the orchestra if necessary.
A unique part of Shen Yun is that we have our own composers, and they compose and arrange completely new music every year. Before we see the score the first time, nobody knows what it will sound like. This requires a lot of work on my part—refining the way of expressing new music, getting to know the choreography, bringing out the right character in each part of the piece, especially with music set to storyline dances. And things evolve throughout the process, so I need to consider changes in choreography, speed or the composition. The music also needs to be synchronized with the digital backdrop, which is sometimes almost like a movie that is integrated into the dance. Every season is a great challenge, which I am very excited about and look forward to.
LL: I've heard many musicians talk about how difficult it is to get a job in classical music. What's your advice for young musicians?
AM: There are many talented young musicians all over the world, but it is not just about practice and playing notes. One needs to have technical skills and to study, but it's just as important to be a genuinely good person. And one needs to realize why that is important and what it means for the performances as a musician.
A key component in an artist's development is to reflect on things, to be creative, and to strive to improve your character. When you perform in front of an audience, people can tell what kind of person you are and whether you will be able to really benefit the people who are listening to your playing depends on what is in your heart, given that the skills are there to play the notes. So if a musician can work on the skills and simultaneously work on becoming a better person with a good moral character, it will be very beneficial to becoming a classical artist.
LL: It's always such a pleasure to talk to you. Thank you so much for your time, and we're looking forward to your next performances, including again at Carnegie Hall here in New York!
AM: Thank you very much!