Dancing as an Ambassador of Traditional Chinese Culture: Interview with Shen Yun Dancer Danny Li
BY NEW LAND MAGAZINE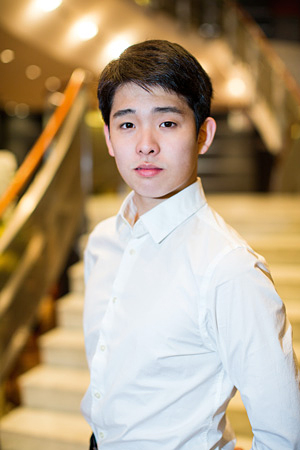 A full moon illuminates the grounds of a Han Dynasty palace. Young Confucian scholars, garbed in purple robe, gather to conjure masterful works of prose, their noble bearing and high aspiration evident through their elegant while masculine movements.
This was a scene of the dance Scholarly Aspirations, featured in the 2015 program of Shen Yun Performing Arts. Among the dancers performing at Sydney's Capitol Theatre this February is Danny Li, the gold prize winner in the junior male division at the 2014 New Tang Dynasty Television (NTDTV) 6th International Classical Chinese Dance Competition.
"Scholarly Aspirations is one of my favourite dances because it brings to life traditional Chinese scholars, their gentlemanship and aspiration," said Li at the backstage of the Capitol Theatre. "I am fascinated with 5000 years of Chinese history and literature, and there are so many things to choose from when choreographing the dance routines."
Turning Wishes Into Reality
This was the first time Li returned to his hometown, to perform as a member of Shen Yun Performing Arts, since he joined New York's Fei Tian Academy of the Arts to study classical Chinese dance 5 years ago.
"Back at that time, I was only a 12-year-old boy with little knowledge of classical Chinese dance or traditional Chinese culture," recalled Li. "I was born and grew up in Sydney and didn't have much exposure to both, but I was so captivated by the ancient Chinese characters brought to life on the stage by Shen Yun dancers that I wished I could be one of them one day."
The dream motivated Li to take a pivotal step in his life, igniting his passion deep in the heart for traditional Chinese culture.
"When I just started, I was sort of struggling. I found the techniques in classical Chinese dance such as aerials, flips, and tumbling were so challenging, and I felt myself so distant from ancient Chinese characters," said Li. "I couldn't feel what they were feeling, let alone get my movements to reach the bearing that is required in classical Chinese dancing."
Despite a somehow bumpy start, it didn't take long for Li to shine as a promising classical Chinese dancer. "I was selected to join one of the Shen Yun performing companies on the European Tour only 9 months later," said Li with a smile. "I didn't expect my dream to come true so soon!"
It was no less than a miracle, and Li credited it to the instruction of his teachers and a highly supportive team.
From History books to the dance floor
"The fundamentals of classical Chinese dance are bearing, form and technical skill, and the training in Fei Tian was a comprehensive and systematic one covering each of them," said Li. "We started with the training of form and techniques, while our teachers told us the bearing of a dancer is the spirit of the dance movement, and thus no less important. Bearing is the reflection of the inner world through movement and when we dance, it is just as visible as any surface physical movement."
To many classical Chinese dancers, bearing is the most difficult part. In order for the movement to reach the bearing, the dancer needs to internalise the character roles. "You really need to put yourself into the role and feel his or her inner world,"" explained Li. "Many dances of Shen Yun are drawn from legends and historical stories, and you have to dive into Chinese literature and history before you can attain an in-depth understanding of characters."
Chinese history is part of the required curriculum at Fei Tian Academy of the Arts, through which Li learned about many events defining history, and famous characters. Being gentle by nature, he is inclined to portray ancient scholars and poets.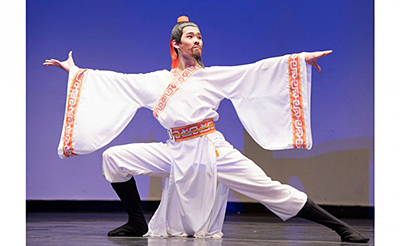 Li's Solo last year at the 6th NTDT International Classical Chinese Dance Competition, Touring the Sacred Country, references a poem by Song Dynasty poet Su Dongpo about the Battle of Red Cliff, where legendary General Cao Cao was dealt a devastating defeat in the year 208.
Li portrayed the poet, imagining the battle as penning the poem, and his exceptional performance won him the Gold Award in the Junior Male division.
"I think I'm more suitable to portray a poet, rather than a general," said Li. "Because I'm a more of a gentle guy, I guess."
When asked about his feeling of performing in Australia for the first time, Li responded with a big beam. "I am so excited to return to my home country, sharing my Chinese cultural heritage with the people here. However many cities I have travelled to, Sydney will always be my favourite."