Orchestra Pits 101: Through the Eyes of a Shen Yun Musician
Pit musicians often feel like zoo animals. Maybe because we play in a confined area with spectators looming over us, pointing fingers.
However, we pit musicians have the better deal. We don't have to endure squealing children or flashing cameras. Besides, most comments are directed towards the two exotic specimens in the center, the erhu and pipa, or the big red stick just behind them. (That big red stick is called a bassoon, by the way.)
After touring with Shen Yun for eight years, I've seen many kinds of cages—I mean, pits. An orchestra pit can have multiple levels, extend deep under the stage, or be to the side of the stage. I have taken the liberty of organizing the different types into four major categories. I hope my descriptions can give you an idea of what we encounter on tour, and maybe evoke your interest in becoming a pit musician!
The Limousine: Large to Medium Orchestra Pits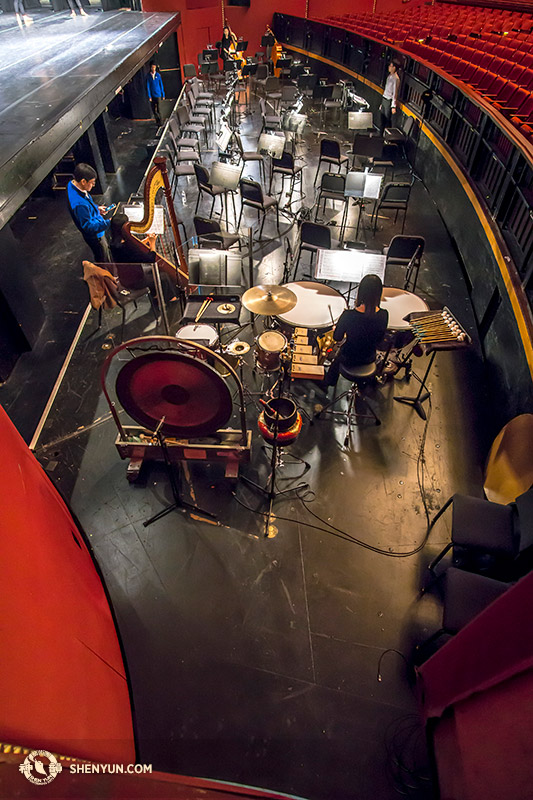 The name tells it all. Most of our musicians may prefer large to medium pits for the luxury of having more leg space. More importantly, a violinist would not have to worry about poking a neighbor in the eye, nor a percussionist about her kitchen sink of instruments toppling over.
Indeed, the Limousine is what many of our musicians wish to find when we step into a theater. However, it is a rare occurrence. Besides, the sheer size of some Limousines actually makes it difficult to hear the ensemble. If you are brass player trying to catch the rhythm of the percussionists or vice versa, good luck.
Conclusion: The Limousine is certainly an orchestra pit you would enjoy once in a while. The extra leg space and open area will make you feel so comfortable, you'll forget you're in a pit in the ground. However, in order to fully enjoy its accommodations, you need to have sensitive hearing.
The Wedding Cake: Pits with Two or More Levels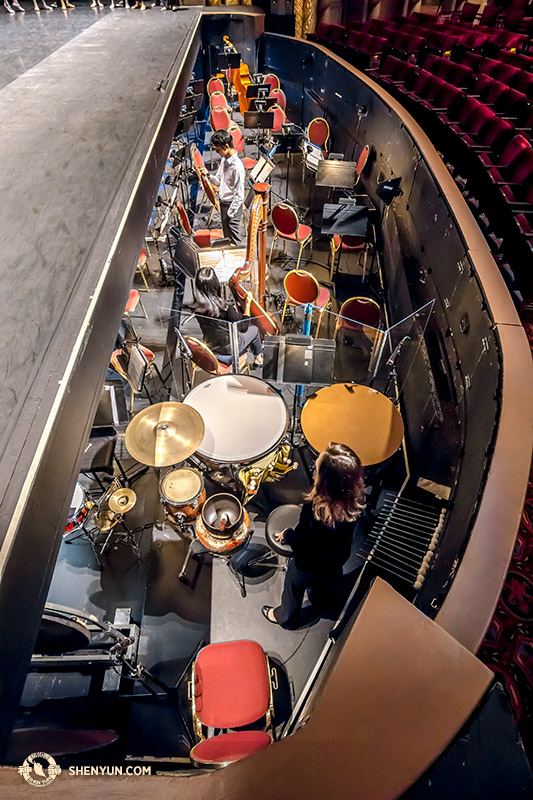 Wedding Cakes come in a range of sizes, both in width and height. By height, I mean depth. The more layers Wedding Cakes have, the deeper they extend; and musicians on the bottom tier must constantly snap their heads up and down between their music stand and the conductor. This particular aerobic of the neck is necessary because the conductor—standing on a podium on the top tier—must be high enough to see the dancers. This helps Shen Yun's stage action and music stay perfectly in synch, a feat praised by many audience members.
Multi-layered pits usually extend underneath the stage. Thus, finicky wind players might find the poor acoustics, caused by the ceiling just inches above their heads, quite undesirable.
Conclusion: Physically challenging but not impossible. The Wedding Cake may allow you a glimpse of the audience's reactions during the performance, which makes that sore neck all the worthwhile.
The Closet: Small Pits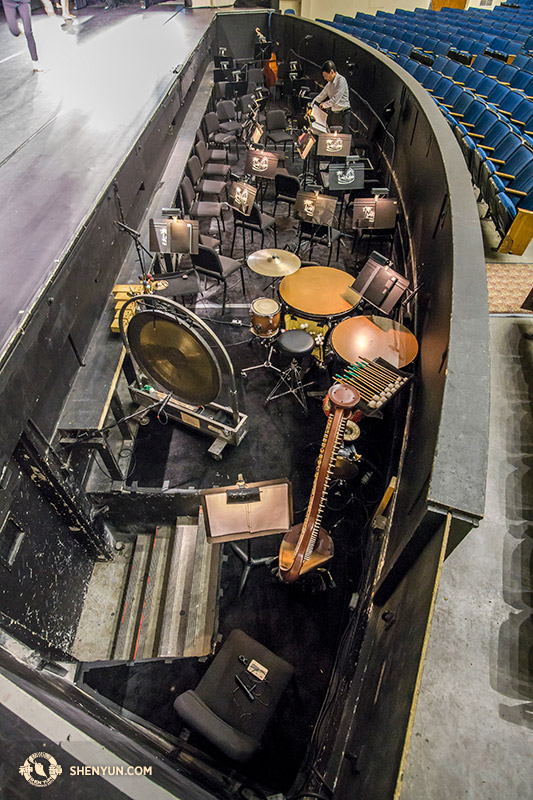 Everyone gets real cozy here! I've come across Closets no wider than my arm span, where I've had to crawl underneath my glockenspiel to get into position. These pits test musicians' endurance. You may be sandwiched next to a painfully loud instrument or lose an eye to a string player's bow. Injury rate in the Closet is high, dangerously high.
Happily, no permanent damage has resulted from any Closets Shen Yun orchestras have performed in.
The one bright side to the Closet is that you can hear every instrument clearly, as if you've developed ultrasonic hearing. The compact space will also make you feel all snuggly with your colleagues.
Conclusion: The Closet might be vexing, but you will emerge with the strength and willpower of a US Navy SEAL.
The Mariana Trench: Pits Extending Deep Under the Stage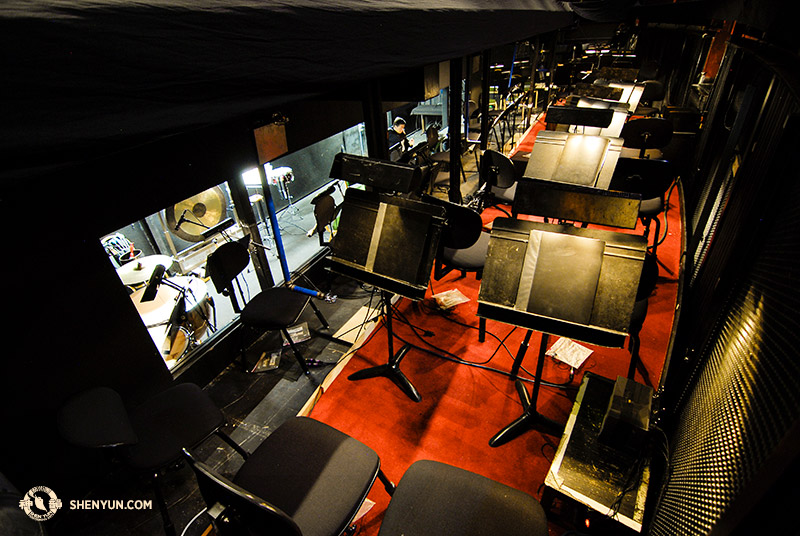 Mariana Trenches are Wedding Cakes (minus the layers) and Closets combined.
Imagine spending two hours in a super cramped basement with thirty other people. Everyone has to look up to see the conductor, who seems like he's standing on the highest peak of the Himalayas. And your ears are constantly battered by the high screams of the cymbal or the atomic blasts of the brass.
Although the environment is tough, Mariana Trenches are actually fun in a thrilling kind of way. You'll feel like an adventurous explorer, braving anything to achieve what you want—in our case, a flawless performance.
Conclusion: Only recommended for those with high tolerance. Although, take note that the difficulties of the Mariana Trench actually help you improve very quickly as a pit musician.
These are four major categories of pits I have experienced. From the numerous venues I've performed at with Shen Yun, I realized that it is important to keep an open mind, have a patient heart, and be flexible in any environment. Although the pits we play in may not always be to my preference, when I see (or feel, when I physically can't see) the smiles of our audience, anything's worth it.
And I assure you, no matter which pit we are performing in, we are playing with our hearts for you. So visit us during intermission. We don't bite. Wave, smile, and talk to us! But please, no flash photography.

Tiffany Yu
Percussionist with Shen Yun Performing Arts
September 16, 2017